The goal of the Center for Lincoln Studies at UIS is to share the life and legacy of the nation's 16th president.
And while those who run the Center wish they could have brought people onto campus during the first year it was open, they have no doubt they have succeeded in in sharing his life and legacy.
The Center for Lincoln Studies is one of the five priorities of the Reaching Stellar campaign, a $40 million campaign that is raising support for UIS. The Center opened on Feb. 12, 2021 – Abraham Lincoln's birthday.
Anne Moseley, acting director of the Center, said she considered the big success of the first year was being able to pivot during the pandemic. While the preference would have been to have people in the Center interacting in person, Moseley said they were able to utilize virtual events and digital materials to dive into the world of Lincoln.
"We were able to bring Lincoln to people around the world through virtual programming," she said. "We also were able to utilize digital materials to dive into the world of Lincoln that we didn't utilize much before, like digital newspaper accounts."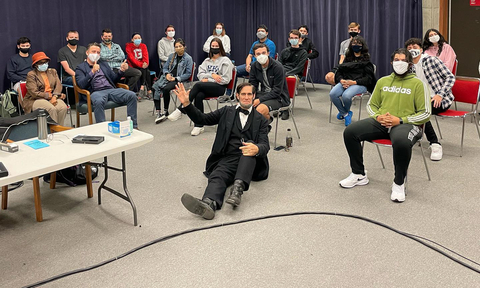 Events like the annual Mary and James Beaumont Endowed Lincoln Legacy Lecture Series was a success, Moseley said, as it touched on timely topics and drew a big crowd – and the Center was able to add more components to make it a full day of events.
Beyond the annual lecture, which as been held since 2002, they added a teacher workshop, a living history presentation for UIS students and the premier of the movie "Lincoln & Douglas: Touring Illinois in Turbulent Times," by Graham Peck, Wepner Distinguished Professor of Lincoln Studies, and art professor Nathan Peck.
Graham Peck said the teacher session was a huge priority for him, as he has high hopes the Center can help educate about Lincoln in younger generations.
"I want to make connections with students and teachers, get teachers to talk about UIS. If you bring them to the University that helps," he said. "We want the Lincoln Center to help promote the University."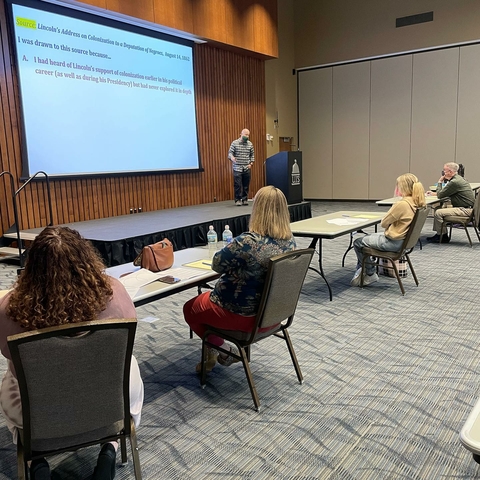 There have been other events too, including question and answer sessions with authors and historians. There also have been new publications by those associated with the Center, such as two books by Michael Burlingame, who holds the Chancellor Naomi B. Lynn Distinguished Chair in Lincoln Studies at UIS. Moseley said they are working to team up with the University of Illinois Press to publish more Lincoln scholarship.
Peck is also proud of the innovative remote artist-in-residency program being held this academic year. Peck, along with Brytton Bjorngaard, director of Visual Arts, and Meghan Kessler, assistant professor of teacher education, received an $85,000 grant from the "Expanding the Impact of the Arts and Humanities," an initiative of University of Illinois System President Timothy Killeen.
The "Making Our History: Artists Render Lincoln's Legacy" program has 20 artists from Illinois who are learning about Lincoln's legacies in monthly meetings and creating art that stimulates conversation about the American past. Each artist will also be filmed in their studios to document the making of each participant's art as well as their historical perspective and artistic approach. Those videos will eventually become a permanent digital exhibit housed at the Center.
The works created by the artists will be exhibited in August and September at the UIS Visual Arts Gallery, the Abraham Presidential Library & Museum and the Springfield Art Association before being donated back to the University. Kessler will make lesson plans that will be posted online and can be used by teachers in their classrooms as well.
Despite the successes, both Moseley and Peck look forward to having more in-person interaction as the pandemic allows.
They also want to bring more attention to the Center. That was helped Monday, when an episode of the History Channel's "I Was There" series debuted that featured Moseley being interviewed about the assassination of Lincoln. The Center's name being mentioned on such a prominent channel for history buffs could bring even more notice to the Center.
Peck also wants to develop more curriculum for UIS students that involves Lincoln and will allow him to collaborate with other departments on campus.
"The potential exists to do more across multiple units on campus to promote Lincoln scholarship," Peck said. "I'm very interested in trying to reach a broader public audience. I'm interested in trying to generate friends for the institution and funds for the Center."
Above all, they want to make Lincoln scholarship more accessible to people.
"We want to make sure everything free and accessible to the public," Mosely said. "The only way we can do that is through the giving from our donors and community members and people interested in Lincoln and sharing his story," she said.  
To learn more about the Center or to donate, visit https://www.uis.edu/cfls/