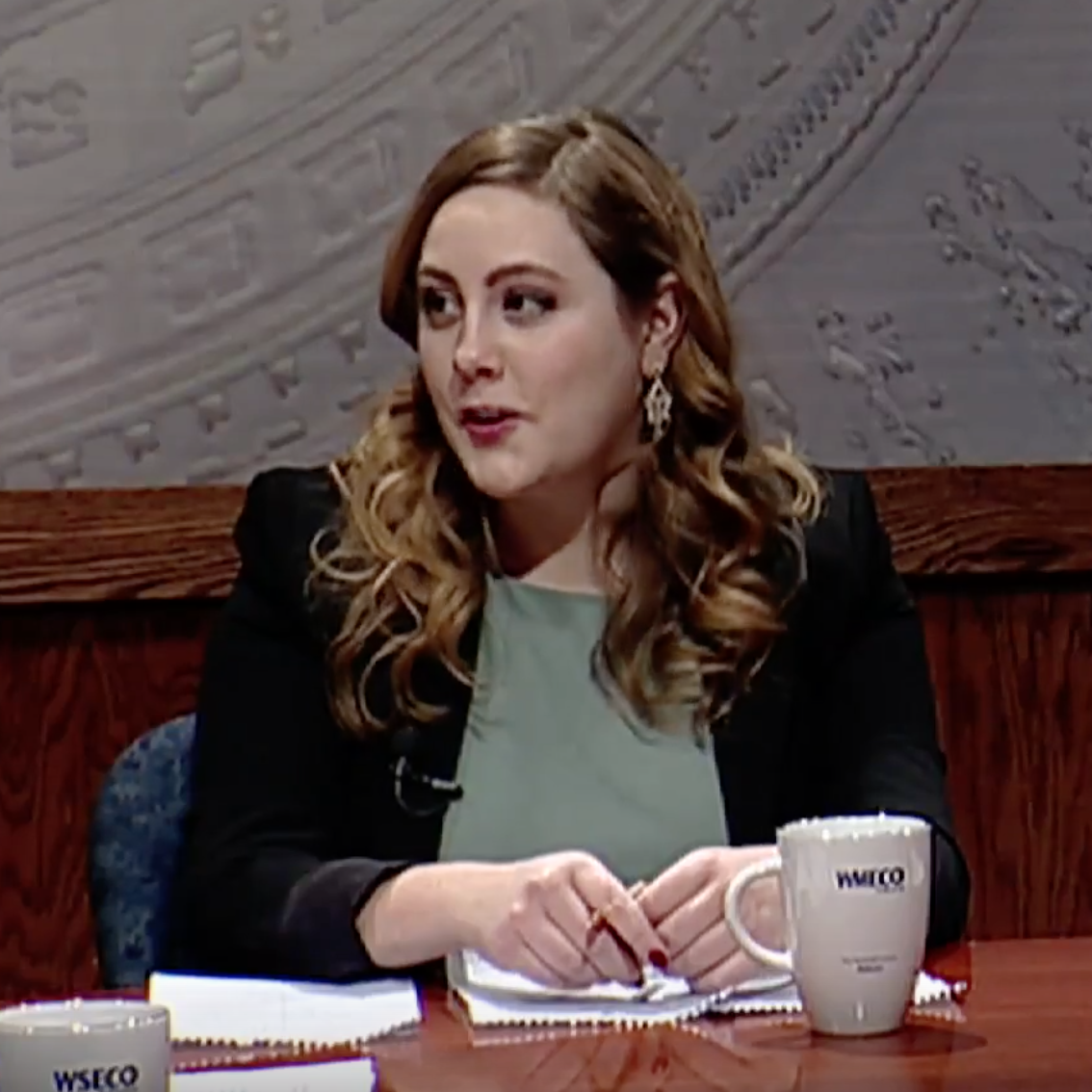 Hannah Meisel has made a handful of stops on her journalism journey since completing the Public Affairs Reporting program in 2014. But she's never strayed too far from the Illinois political beat.
These days, audiences can find her Statehouse reports on NPR Illinois and other public radio stations around the state. Hannah started full time as the radio station's Statehouse Editor on March 8 after working on a temporary contract with the station since last fall.
Prior to that, she covered the Illinois Capitol beat for The Daily Line, Law360 and Capitol Fax. She also was a reporter for WILL, the public radio station at the U of I's Champaign-Urbana campus.
We caught up with Hannah for this Q&A:
Q: This job is a homecoming for you. Your PAR internship was with NPR Illinois. But you've almost always followed state government in whatever job you had. What is it about the Illinois General Assembly and the rest of the Capitol crowd that keeps you interested?
A: I think the initial attraction to covering Springfield was the scandal, honestly. I remember Rod Blagojevich getting arrested my senior year of high school; our AP Government class made T-shirts that said "we're bleeping scholars," a PG-13-rated take Blago's "I have this thing and it's f****** golden" line. I went to the University of Illinois on the heels of the Category I admissions scandal, revealed by the Tribune in 2009.
But going through the Public Affairs Reporting Program, I absorbed the enormity of this state's history, which — yes — includes a lot of scandal, but also gets at crucial lessons about what successful economies are built on, how political power can build up communities or exploit them and racial justice (much more injustice in our history). State government also arguably has the most impact on people's lives, but through a combination of cable news screaming about national politics and disinvestment in news outlets' Capitol bureaus, the average citizen likely doesn't realize what's going on in Springfield.
Most of all, though, it's the issues and especially the people who keep me interested. I don't have any interest in going out to D.C. to report on Capitol Hill. People engaged in state politics are much more interesting to me. They're real people. I have their cell phone numbers. We text, we laugh, we can have a drink. The egos are smaller and the willingness to level with reporters is higher. And much more stuff gets done in Springfield than it does in D.C.
Q: With a career including stops at radio and web-only outlets that produce longer-form journalism, you've been a multi-platform journalist since before it became cool (and necessary in today's media world). What led to your decision to not label yourself as a print-only or broadcast-only reporter?
A: After I made the decision that I wanted to stay around Illinois politics, prioritizing that beat was so much more important to me than the medium. Because most people get their news online, fewer people are loyal to xyz media outlet (which, of course, also has drawbacks), and so there's a more level-ish playing field for even new online-only outlets to break news and make an impact if the desire and investment is there.
Q: You were recently named by the Washington Post's political section, The Fix, as one of Illinois' "outstanding politics reporters to follow." Your Twitter feed is a nice mix of important news, human moments and humor. How did you develop your voice/approach on social media?
A: I went to college for journalism at a particular time in the industry, and I absorbed the message that traditional reporting was disappearing, and I had the highest likelihood of getting a job in journalism if I learned how to stand out as a digital/social media producer. Thankfully, reporting is still alive and well, and there was a rightful backlash against clickbait/aggregation. But I feel like I learned how injecting your personality into your online presence will make you a lot more memorable than those who strictly use those channels for news. (Not that I'm saying that's an incorrect approach, but this is what worked for me.)
There are times when I tweet a lot and mostly tweet things that pop into my head, and there are times when I pull back and try spending less time on Twitter.
Last year when I was pretty consistent with tweeting out new COVID charts every single day for like nine months, I felt a responsibility to the audience who came to expect them. But right now I'm trying the less-is-more approach so I can focus on reporting.
Q: COVID-19 rightfully commands so much attention in the media right now. What state government issues are you hoping to cover more as the pandemic cloud continues to lift?
A: How Illinois' budget and economy recovers from the pandemic recession will be an ongoing story for a long time. We lived through the budget impasse from 2015 to 2017, saw the state's budget bounce back better than expected...and then COVID hit. The question of whose priorities matter and how honest the state's top brokers want to be about the state's fiscal realities will be interesting.
We're also in a redistricting year, and the initial Census numbers released in late April revealed Illinois lost net population for the first time since even before we became a state more than 200 years ago. How the new map shapes up when competing political interests are at play is going to be fascinating.
Finally, as I write this, the state is more than a year late on the first round of "social equity" licenses for the state's burgeoning cannabis industry. The 2019 legalization law, though well intended, had some weaknesses that seem so obvious now, but didn't at the time. Reforming that mess so that the folks who were harmed most by the failed War on Drugs and paid thousands of dollars to apply for licenses can finally get some closure is a really important step to see that industry diversify in a step toward equity.
Read Hannah's latest coverage for NPR Illinois.
___________
Jason Piscia is an assistant professor and director of the Public Affairs Reporting program at the University of Illinois Springfield. He came to UIS following a 21-year career at The State Journal-Register.