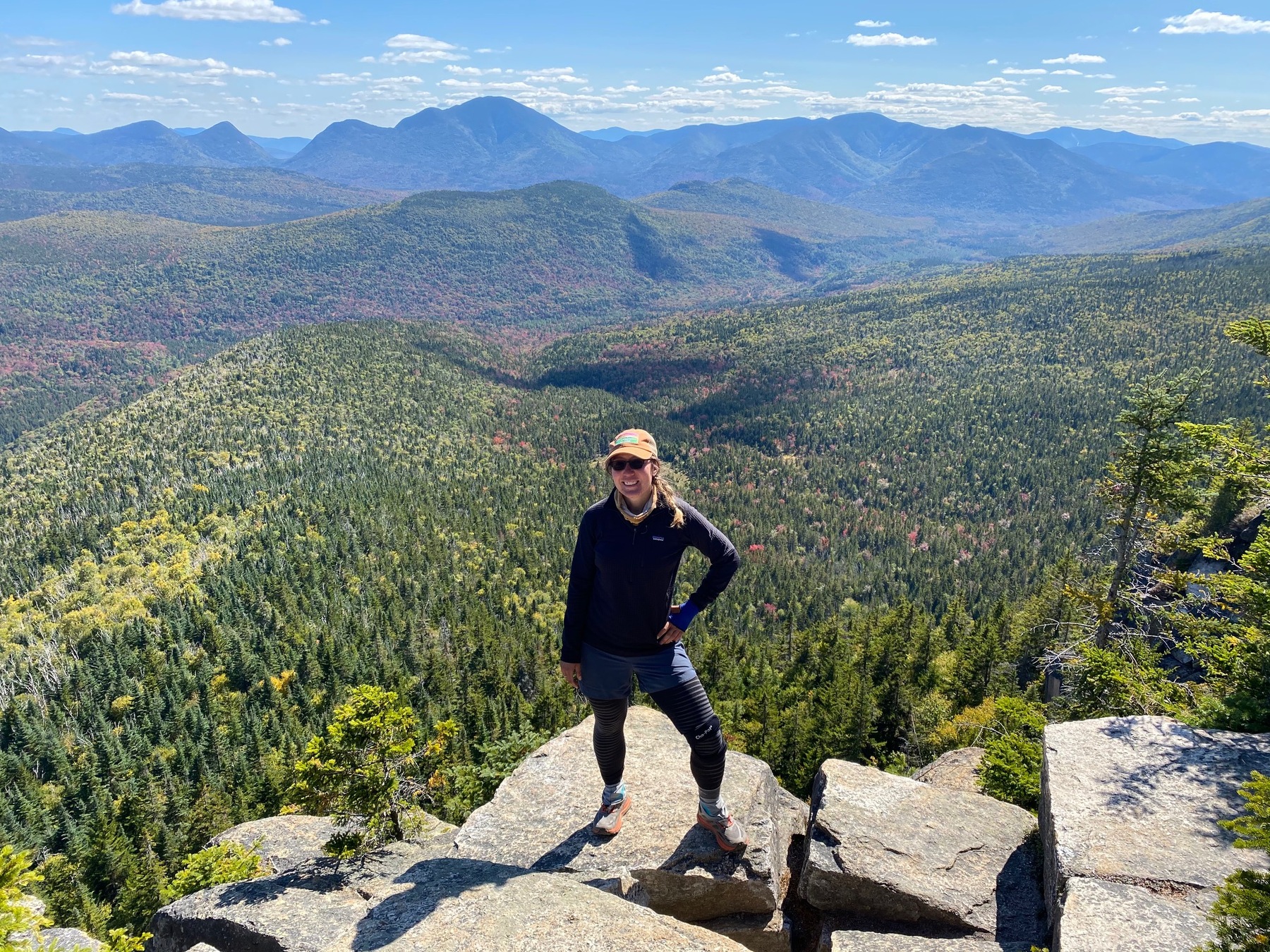 In the years since completing the Public Affairs Reporting program in 2008, Andrea Zelinski has been covering politics and government for news organizations in Illinois, Tennessee and Texas. But in 2020, she hit the pause button on her journalism career for a seven-month journey on the Appalachian Trail, the 2,193-mile hiking trail that covers 14 states. Andrea began the hike on June 6, 2020, from the trail's southern terminus in northern Georgia, and she reached the northern terminus in Maine on Jan. 5, 2021. I recently caught up with Andrea — who is back on the job in Austin, Texas, covering politics for Texas Monthly — to talk about her trek in the middle of a pandemic.
Jason Piscia: Before we jump into your adventure, quickly catch us up on what you've been doing since leaving UIS.
Andrea Zelinski: Once I began reporting about state governments, I couldn't stop. My 2008 PAR internship at Small Newspaper Group turned into a full-time gig. When they laid me off six months later, I moved down the hall to the AP to help them cover Gov. Rod Blagojevich's impeachment as a relief reporter. Then I began moving south — first to Tennessee where I wrote for an online news startup called TNReport, the Nashville City Paper (RIP), and then to the Nashville Scene where I felt for the first time that I was developing a voice as a writer. Some years later, someone from the Houston Chronicle cold-emailed me suggesting I apply for a job to cover Texas, and shifting to a major metro daily newspaper was too big of an opportunity to pass up. Today, I'm writing for Texas Monthly where I'm leaning into my voice, again.
JP: Just as the pandemic was getting serious, you left your job with the Chronicle's Austin bureau to take on the Appalachian Trail. I'm sure you could write a book on all of the feelings and emotions that went into that decision. Can you try to summarize some of them here? And what was it about the AT that drew you to that challenge?
AZ: A lot changed in my life after moving to Texas. Not only was writing about Texas politics for a daily publication intense, but my marriage had ended. I didn't know what I was supposed to do next — the blueprint of get married/buy a house/have some kids was gone. Instead, I had a blank canvas and was paralyzed with fear that I would paint it wrong. On a trip to visit friends in Vermont in mid-2018, we wandered onto the Appalachian Trail and bumped into three young women walking Georgia to Maine. I was in real awe that people in the middle of their lives would do this. I was convinced I'd have to wait until I retired. After we chatted I made it no more than five steps away before I decided I wouldn't to wait that long, and in fact, the time was now. By the time I got back to the car, I knew when I was going to hike it (2020 or bust), had a plan to save money to afford not working and had a pitch for a sabbatical then come back in time for the 2020 elections.
Everything went to plan until March, then it fell apart. I had moved out of my home, stowed my things in storage and was three days away from leaving when the NBA canceled its season, which felt like the moment COVID became real. I kept to my plans, convinced I could social distance in no place better than the woods. Two days after I said goodbye to my job, cities began shutting down bars and restaurants and it hit me that I may have made a huge mistake. I couldn't get my job back because of a hiring freeze, and many hikers who'd been on the trail for weeks were going home. I spent about two months agonizing over what the next chapter of my life would be like, but I held out hope that when we knew more about the virus, I could get on the trail. In June, I rented a car (rather than riding a bus as I planned) and got myself to the southern terminus in Georgia and began my trek, although it seemed the journey had begun long before then.
JP: Scrolling through your Instagram, you documented numerous challenges on the trail — extreme weather, a knee injury, the logistics of having a job to return to, and just missing your dogs and people. Each time, you kept going. Why?
AZ: I never wanted anything as much as I wanted this hike and time for myself. Between a buzzing phone and constant deadlines (not to mention serious social FOMO), I needed time to slow life down and strip away all the hats we wear — journalist, friend, sister, daughter, woman — and just be a soul walking in the woods. As reporters, we absorb so many emotions from other people, process and then translate them into stories for others to understand. It's one of the greatest honors to be trusted to tell one's story, but it can be heavy work, especially in a political climate where emotions are running high. At the end of my life, I want to have more to talk about than the stories I wrote. I wanted to tell the stories I've lived, and that was motivation enough to carry me every mile of the trail.
JP: You're back in Austin, covering politics for Texas Monthly. Perhaps not enough time has passed, but I'll ask — how has your AT experience changed the professional side of your life? Does it influence how you approach specific reporting/writing assignments?
AZ: My hike on the AT rewired how I think and what I care about. I met so many fascinating people on the trail — whether they were hikers, trail angels, hostel owners — and something about being in the woods or on a trek brought down the walls many of us normally keep so high. I want to surround myself with more people like that, so I find myself searching for interesting characters or people doing inspiring or courageous things, even if they're small. This has resulted in stronger connections with interviewees and discovering fun leads that I hope will turn into stories that bring fresh air to the heaviness of government coverage.
JP: With everything that has happened over the past year, I imagine there are several people out there thinking about a significant life change or tackling a big personal goal. It might not be on the level of going on a 2,200-mile hike, but still, what's your advice for someone debating whether to take a leap?
AZ: Pretty early in my hike, I had the thought: not everyone should do this, but everyone should do this — "this" being taking a journey for their own personal growth. Whether it's a hike, a different job, a dream to see the world, magical things happen to your frame of reference when you are outside your comfort zone. And maybe it's scary. Maybe it doesn't work out the way you planned. But at the end of all this, don't we want some of our own stories to tell?
JP: What's your next adventure?
AZ: I want to hike the Pacific Crest Trail (2,650 miles) and the Continental Divide Trail (3,100 miles), which both stretch from Canada to Mexico. Completing the Appalachian Trail (check!) and those two is called hiking the Triple Crown, so that's a new life goal of mine.
You can learn more about Andrea's AT trek on her Instagram, @adventuresofwatergirl. You can follow her coverage of Texas politics in Texas Monthly.
Jason Piscia is an assistant professor and director of the Public Affairs Reporting program at the University of Illinois Springfield, who came to UIS following a 21-year career at The State Journal-Register.