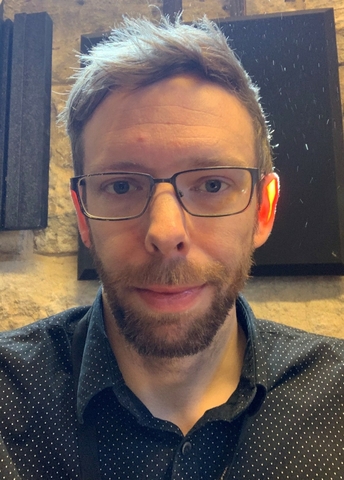 Longtime Springfield radio listeners likely the remember the voice of Alex Degman (PAR '09), who worked for WTAX-AM as a reporter, anchor and news director from 2012 to 2015. If they don't recall his WTAX days, local residents may have heard him after he moved down Interstate 55 to St. Louis' KMOX, where he spent nearly five years as an anchor and reporter.
Degman is back in Springfield working at the newly opened Statehouse bureau for WBEZ, the Chicago public radio station that provides state government coverage for NPR stations throughout Illinois.
I caught up with Degman to ask him about his return.
Jason Piscia: Before we jump into your return to Springfield, quickly catch us up on what you've been doing since leaving here in 2015.

Alex Degman: I left Springfield to go work at KMOX in St. Louis; I was there full time for a little more than 4.5 years ... left for about 14 months ... then went back part time while I applied for this job with WBEZ.
I decided in the Summer of 2020 that my situation was untenable, but I hadn't been happy in the job for a while prior. My unhappiness at work compounded with the fact that I couldn't escape it outside of work (COVID, George Floyd riots where four police officers were shot and a 7/11 burned four blocks from my home), it was too much to handle and I needed to step away -- but I never ruled out returning to journalism for the right opportunity in the right environment.

I got lucky because soon after moving to St. Louis, I learned how to make incredibly decent money delivering food and people from place to place (GrubHub, DoorDash, Amazon, Uber, I always need to have multiple things going on), so that was a very nice, relatively stress free way to earn a living while I reset.
JP: What was the biggest factor that drew you back to the capital city? It was the horseshoes, right?
AD: Other people are excited because now they can have horseshoes when they visit. It's fine because even though I don't eat them unless people are visiting, I still eat plenty for that very reason. But honestly what drew me back was the job, it took me a while to warm up to living in Springfield again -- this is the third time I've moved here.
JP: Chicago Public Media, the nonprofit that operates WBEZ, recently took over the Chicago Sun-Times, creating one of the largest nonprofit news organizations in the country. As someone who worked in commercial media for many years, what's your view on the role of nonprofits in news?
AD: It's a really important role that will continue to become more important as the media landscape changes. Speaking for radio, the biggest companies (iHeart and Audacy) are hubbing talent, so one person in Los Angeles does the midday show in seven other markets, for example (that's the general idea, not an actual example). News has been spared major cuts because they're protected by union contracts for now, but other annoyances related to money continue. Plus, as budgets get tighter, the formerly strict line separating sales and programming keeps getting thinner — it gets a lot harder to say no to the ad shouting "don't listen to the fake news" during a straight news hour.
JP: In the seven years you've been away, what are some changes you've noticed about living in Springfield?
AD: I'm a lot closer to the average age of Sangamon County than I was when I moved here the first time 13 years ago. I don't know if that has anything to do with it, but Springfield seems a little cooler this time around. It could be because I laid the groundwork a few years ago, know quite a few people and already know where I like to go. But some new businesses have popped up downtown, the attitude doesn't seem quite so defeatist and the roads are better than they were (don't laugh).

I've also noticed that my neighborhood, Enos Park, was the perfect place for me to go because it reminds me so much of Downtown West in St. Louis. I'm walking distance from a lot of things (actually more here than there, grocery store, coffee, gym, doctors' offices, bank, a bunch of fast food, downtown bars/restaurants), but I'm within a 15 minute drive of anything else I might need ... and it's really diverse.
JP: What's different about the Statehouse environment, compared to your PAR days?
AD: One of my first assignments in PAR was to sit in the Senate chamber as they debated whether Rod Blagojevich should be removed from office. That session also had me sitting in the Senate Chamber until 12:45 a.m. June 1 because that's how budgets were done, and then after that we went to Pizza Machine for the after-session party that wasn't at all a conflict of interest.

All that to say ... things have changed. Committees are remote, things are more subdued, things make more sense, there's a budget surplus. But some things stay the same. Dave Dahl is still working 18 hours a day asking memorable questions, Luke Carey still doesn't know who I am, the press room coffee maker and refrigerator haven't been cleaned in four years and some of the press corps is getting kicked out of the Capitol to head to temporary offices in the Stratton Building.
I'm glad to be back!