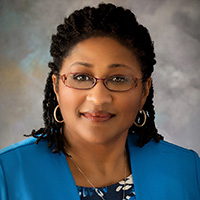 Natasha Conley
1994
Entrepreneur In Residence - Washington University in St. Louis
MIS
Natasha Conley, PMP serves as the Vice President of Professional Services & Resources, Inc. (PSRI), a family owned business which was incorporated in 1987. Ms. Conley also serves as President of PSRI Technologies, LLC (PSRI Tech) which she founded in 2001. PSRI Tech's headquarters are located in Jefferson City, Missouri and has a branch office in Metropolitan St. Louis.
Her company is a United States Small Business Administration (SBA) 8(a) graduate and holds a number of state minority and women owned business certifications. Her company's core competencies include staff augmentation (information technology/administrative and clerical), help desk operations and project management.
Over the years, Natasha's company has worked with a number of high-profile firms which include: IBM, JP Morgan Chase, Xerox, NTT Data, TATA Consultancy Group, CGI, Deloitte, Motorola and Unisys to name a few. She has a number of State clients which include the State of Missouri, New York, Maryland and the State of Rhode Island. Natasha's company has worked with the United States Army and currently works with the U.S. General Service Administration.
One of her most notable projects was with American Management Systems (now CGI). They implemented the first State-Wide ERP system for the State of Missouri. It was one of the largest IT projects ever outsources by the State of Missouri and its contract value was approximately $100 million dollars. Natasha's company managed a team of 50 developers which provided systems integration support, business analysis and post implementation training.
Natasha is currently a PhD student at Case Western Reserve University and holds the distinction of being a Fellow for the Fowler Center for Business as an Agent of World Benefit. Her research interest is entrepreneurship, specifically minority and women owned business growth and sustainability. Last year she was invited to present her qualitative research project, "Barriers to Business Growth: How High Performing African American Businesses Overcome them" at the Academy of Management in Anaheim, California.
Natasha holds a master's degree in Management Information Systems from UIS and a bachelor of science degree in Computer Information Systems from Central Missouri State University. Ms. Conley is certified as a Project Management Professional (PMP) by the Project Management Institute (PMI) and has served as a board member for the Mid-Missouri PMI Chapter as Vice President of Administration. She is a current member of the Black Data Processing Association, the Armed Forces communications and Electronics Association (AFCEA), Mid-States Minority Development Council, Metro St. Louis PMI Chapter, Association of Information Technology Professionals, Executive Women's Golf Association and National Association of Women Business Owners (NAWBO). Ms. Conley is a board member and past Vice President of Membership for the National Contract Management Association—St. Louis Chapter and a founding member for the Mizzou Venture Mentoring Service at the University of Missouri-Columbia.