The very first class our MA students are required to take is ENG 501—Digital Humanities. As a core class, it is required for both students in the Digital Pedagogy track and the Digital Publishing track. More than a requirement, the class serves as an introduction to the overall program. While it is founded on traditional graduate-level research, it also asks students to engage with texts in new ways. More specifically, it asks students to engage in literary/rhetorical analysis and criticism with the help of technology and interdisciplinary research methods.
Digital Humanities is an emerging field in academia, and its approach to analyzing and teaching texts with emerging technology is particularly relevant to the core elements of our master's program, which is one of the reasons it is the first class our students take. Our graduate students are producing new and innovative research for their final projects in this course.
Rob Fafoglia, for example, wanted to take a closer look at a text with which he was already familiar. In order to gain a new perspective on the text, Fafolgia used Ersi Story Maps, an accessible GIS (Geographic Information System) software, to geographically visualize the narrative of The Long Walk, a novel written by Stephen King under the pseudonym Richard Bachman.
"While this story has long been a favorite of mine, I wanted to try and find a pattern to horrors contained within, a method to the madness," said Fafoglia. "To that end, I enlisted the aid of several Digital Humanities tools to show a pattern to the cycle of death which occurs during this troubling tale."
"What I wanted to examine and interpret is why the Walkers fall when and where they do, and if their deaths have any relationship to their location along the route, particularly in regards to large crowds."
Another skill fostered in the Digital Humanities course is the ability to synthesize research and present it in an accessible format. The course focuses on approaches to displaying information on websites and strategies for organizing information and making it readily searchable. Like many of the students in ENG 501, Fafoglia chose to present his research in web format.
Daymon Kiliman, another graduate student who recently completed his ENG 501 research project, focused his application of Digital Humanities methods to his love of composition studies.
Kiliman's project uses Linguistic Inquiry and Word Count (LIWC). According to Kiliman, LIWC is "a software application that analyzes texts for syntactical and lexical cues of emotional content and cognitive reasoning to establish whether these models correlate with the descriptive taxonomy of student writing developed by Sheena Gardner and Hilary Nessi." A more in-depth explanation of the software and Kiliman's application of it can be viewed on the website he created to present his research.
The results of Kiliman's Digital Humanities approach to his research questions provide valuable data that aids stakeholders in choosing which textbooks will work best for their writing programs and the needs of their students. The data also illustrates the value of computational analysis for composition studies.
"Digital Humanities encourages new, provocative questions that may be pursued through novel methods," said Kiliman. "It is very exciting to leverage the interpretative skills, intellectual rigor, and creativity fostered in English Studies to pursue novel and useful lines of inquiry."
Roni Hartman, another member of the UIS English master's student cohort, used similar software to investigate a much different research question. Using LIWC, Hartman measured conversational and storytelling registers in the dialogue of Watership Down in order to quantifiably determine the dominant storyteller in the novel.
"I explored the speaking registers of the rabbit storyteller Dandelion in Richard Adams's 1972 classic, especially changes in oral storytelling compared with conversation or dialogue," said Hartman. "Through a digital analysis of the text of Dandelion's non-storytelling and storytelling dialogue, I expose differences between his modes of talking, including differences in aspects of authority (clout), authenticity, tone, formal thinking, lexical density, readability, and passive voice."
As you can see from the excerpt of her website below, Hartman's work was not complete after she collected the data produced from LIWC. She fed the results into Analyze My Writing, a software that analyzes texts by calculating word/character counts, word/sentence lengths, and many other analyses. The tool also offers articles to help analyze the statistics produced from your text samples.
Analyze My Writing was also useful for another graduate student's inquiry into Emily Dickinson's evolution of punctuation usage. Using a 1860's hand-written sample of Dickinson's poetry made accessible through the Emily Dickinson Archive, Lauren McPherson fed samples of 113 texts into Analyze My Writing to count Dickinson's dashes within the sample texts to "help make viewable the trends in punctuation, observed through use of the dash in Emily Dickinson's correspondence with Susan Gilbert between 1860-1869," as stated by McPherson.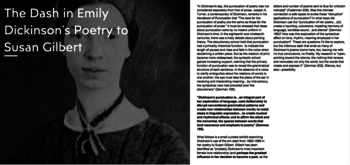 Digital Humanities provides scholars the opportunities to push their practices further than they have in the past. By using interdisciplinary approaches and sharing tools like GIS and LIWC across fields, researchers can produce new kinds of data, such as Kiliman did for writing programs, or as McPherson was able to do with her Dickinson research. Although many students used different technologies and methodologies to produce and interpret their data, for many of them, it was the first time approaching a text in such a way.
As they progress through the program, these students gain the confidence to tackle multiple types of research projects in varieties of ways. Through this foundation, we equip our first-year graduate students to successfully complete the program and confidently enter positions after graduation.