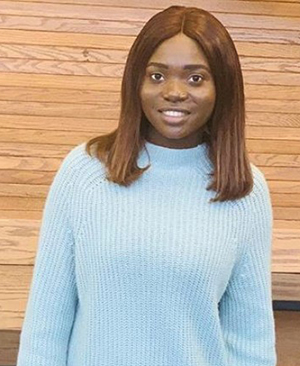 Edirivere Okoro
'21
Accounting
Accounting
How I chose my field of study
From a young age, I have always loved being accountable and found great joy in helping others in different areas of money management and putting ideas together. As I grew up, I got to understand the meaning of accounting and how it is not just limited to one aspect or one routine. I came to realize that accounting is a vast and exciting field to study because it is filled with specialized career paths tailored to each individual's goals and interest.
Upon completion of my accounting undergraduate degree from Bowen University Nigeria, for 11 months, I got an opportunity to work in a business consulting firm where I worked in the Research Department. Working with the Research Department exposed me to various skills, which included investigating and sourcing, and analyzing and interpreting data and information, as well as research.
Even though research is not a primary core accounting function, it drew me closer to the path of auditing, which is a sector in the accounting field that has sparked my interest as it allows me to be an outstanding and critical thinker. Being able to sort out financial statements, audit companies and give reports is something I would love to do in the future. Another personal core interest is the aspect of consulting and accounting strategy. I believe that to be successful, an individual needs to possess the passion and drive, to focus on achieving their goals. All these passions and curiosities drove me toward choosing my field. Knowing that accounting challenges and helps you to be critical in thinking caused me to develop a skill for problem-solving and assisted me in adhering to all the rules and ethics of the profession, which is a model of defining anyone who chooses this career path. With the ever-changing business and financial world, the duty of accountants broadens and evolves, bringing with it new ideas and practices on how to ensure clarity and fairness in reporting standards. All of these are the reasons why I choose my field of study.
How I plan to use my degree from UIS
For me, a master's degree in accounting is another significant milestone to be achieved in my future career in accountancy. Upon graduation and completion of my degree at UIS, I will have completed the 150 hours required to sit for the CPA exams. I will also be able to do other professional exams, like project management.
My set-out goals for my career and life as an accounting student has been surrounded with the ethics of being an accountant, critical analysis and working with others for problem-solving and making an impact wherever I find myself are my driving force.
I plan on working in the field of auditing, consultation and accounting strategies, as those are my main interests. Nevertheless, I am open to building my knowledge and skills with other professional courses like project management and information technology with the hopes of getting a job with one of the four big audit firms: Deloitte & Touche, Ernst & Young, KPMG and PricewaterhouseCoopers here in the United States or back in my home country Nigeria.
In addition, I want to be able to work in multinational firms as well as create an impact in my community. I would love to travel the world and work with highly equipped professionals and firms, as all of this is part of personal growth, and I truly believe my degree from UIS will help me in achieving these goals.
My experience at UIS
An experience at UIS is when I started my first semester. Coming to a new environment and a different mode of teaching was a challenge for me at first. I was down and feared to fail. It was extra weight on my shoulders because my parents were spending much money on my fees and my upkeep, and I feared to bring them any disappointment.
Being an international student during the first week of classes was a challenge, but I had the student advisor in my department counsel me, and she gave me great advice in tackling these challenges. Upon meeting other international students as well as making new friends, my confidence was boosted, and I overcame my challenges. I started to feel more comfortable and was able to face my education. I got to understand my professors and relate more in the classroom, which made me more open-minded.
Starting at a new school in a different country was frightening at the beginning, but eventually, it was easy, and with the kindness of everyone, I appreciated the fact that I made the right choice by studying at UIS.