On commencement day, it's typical to want to get photographs to mark the occasion.
But not many people get a photo of themselves with the university's chancellors and president of the University of Illinois System.
That's was Christopher Holley's experience though when he attended the 2020 Commencement Ceremony held Sept. 18 on the UIS campus.
The in-person Spring 2020 Commencement Ceremony was postponed due to the Covid-19 pandemic. Graduates in the Class of 2020 were promised they would eventually get the opportunity to walk across the stage when it could be done safely.
That day came Sept. 18. Holley, who lives in Mansfield, Texas, and earned his online bachelor's degree in business administration management, traveled with his wife and five children to Springfield to take part. He was able to snag a photo of himself with UIS Chancellor Emerita Susan Koch, Interim Chancellor Karen Whitney and UI System President Timothy Killeen when he bumped into them near the colonnade.
Holley said he was touched when Koch mentioned him in her speech after she told him he embodied UIS' online programs.
"It was a perfect time," he said.
Joan Sestak, director of Community & Governmental Relations for UIS, said the September ceremony fulfilled the promise officials made to celebrate the academic achievements of the Class of 2020. The opportunity to walk across that stage was one many students who live far from Springfield couldn't pass up: Of the 150 students who registered to attend, more than 40 lived in states besides Illinois – including 16 from Texas alone.
"It was a beautiful day," Sestak said. "It was a joyous celebration of our students' accomplishments that they got to share with their families and friends."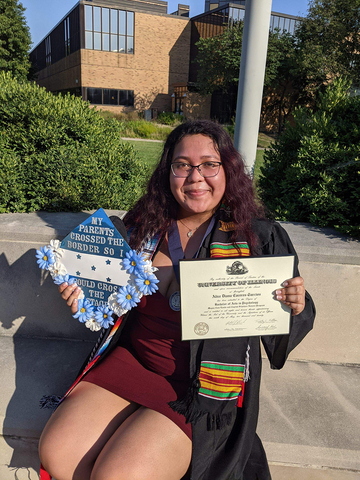 Alice Caceres-Turcios, a 2020 graduate who is now pursuing her master's degree in social work at the University of Wisconsin-Madison, was ecstatic to head south for the September ceremony. She said she was upset when she had to finish her studies from home instead of campus for the last few months of her senior year and the in-person commencement ceremony wasn't held in May 2020 after she completed her bachelor's degree in psychology with a double minor in history and women and gender studies.
"That hit me hard because I worked very hard to get to that point," she said. "Knowing I wasn't going to have that chance broke me a little bit."
She said she screamed with joy when she saw an announcement on Facebook that a ceremony was planned for the Class of 2020.
"I was ecstatic. I honestly thought it wasn't going to happen," she said. "It was just this overwhelming feeling."
The September event was the first time her mother and sister had been to Springfield and she felt a sense of pride at being able to show them where so many significant events in her life occurred.
"I was so grateful we even had the opportunity to do it. I know so many other schools won't ever have that chance," she said. "It felt fulfilling. I'm sure it wasn't the traditional ceremony it would have been, but it did what it needed to do. I felt content that the school recognized what all the grads did, that we finished online the last half of the semester. That's all I could ask for personally."
Yugandhar Dutt Atchyuthuni, who now lives in Allentown, Penn., wasn't about to miss the opportunity to finally walk across the stage either. While his online master's degree in computer science from UIS was the fourth degree he had earned during his lifetime, it was the first time he could actually attend a commencement ceremony.
"I didn't want to miss this time for sure," he said, noting he brought his eighth-grade daughter with him so she could see what a college campus felt like.
"It was a very big thing," he continued. "This was the first time I could take it on stage. I was waiting for a long time. I was disappointed when they cancelled it in 2020. They kept in touch, and told us to keep the hope."
Holley also didn't get the chance to go to his commencement ceremony when he earned his associate's degree. It meant the world for him to have his wife, children, mother and brother attend the September ceremony at UIS.
"It means a lot that I was able to share that with my mom. She was my biggest supporter of me going back to school," he said. "I was happy to be able to give that to her and have that experience."