The UIS Visual Arts Gallery presents A Public Commons, an exhibition by Service Works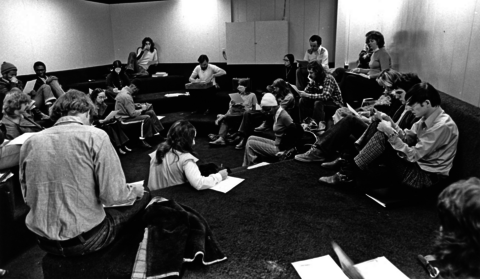 The University of Illinois Springfield Visual Arts Gallery is pleased to present A Public Commons, a project building on UIS' history of being an institution focused on openness, innovation and adaptability. The project recreates "the pit," a popular 1970s Sangamon State University (now UIS) classroom known for its lack of desks and chairs. In this neutral space, people can explore effective communication and problem-solving from different viewpoints. A Public Commons opens Aug. 28 and runs through Oct. 5.
The space is open for public use and is designed to be reorganized according to the specific needs of each event. Individuals interested in occupying this space for productive discussions can reserve a time through a Google Form. The space is available from noon to 5 p.m. Monday through Thursday during the exhibition's run.
A Public Commons is driven by Service Works, a unique platform that partners with a variety of people and institutions to provide access to socially relevant resources, opportunities and information through art and social design. This particular project is facilitated by artists Mike Miller, UIS associate professor of visual arts, and Brian Gillis, professor of art at the University of Oregon. They are working in partnership with Tiffani Saunders, Memorial Health equity diversity and inclusion consultant; Carol First, a nurse at Springfield Memorial Hospital; and Ty Dooley, interim director for the UIS School of Public Management and Policy.
In conjunction with this project, Miller and Gillis will present an Engaged Citizenship Common Experience (ECCE) Speaker Series lecture from 6 to 7 p.m. Sept. 13 in Brookens Auditorium, on the lower level of Brookens Library. The ECCE series is part of UIS' undergraduate curriculum designed to foster an understanding of diversity, citizenship and issues of common concern. An exhibition reception for A Public Commons will immediately follow from 7 to 8 p.m. at the UIS Visual Arts Gallery. Both events are free and open to the public. 
Additionally, A Public Commons will host four central convenings for discussions focused on social and cultural topics. These convenings are open to the public:
Sept. 16
"Is Socially Responsive Education Possible?"
Facilitators: Brian Gillis and Mike Miller
Time: 10 a.m. to noon
Sept. 23
"Practicing Social Justice"
Facilitator: Tiffani Saunders
Time: 10 a.m. to noon
Sept. 30
"The State of Mental Health Care"
Facilitator: Carol First
Time: 10 a.m. to noon
Oct. 5
"Removing Barriers to Achievement"
Facilitator: Ty Dooley
Time: 10 a.m. to noon
This program is partially supported by a grant from the Illinois Arts Council Agency. The UIS Visual Arts Gallery is centrally located on the UIS campus in the Health and Science Building, room 201 (HSB 201). Gallery hours are 11 a.m. to 6 p.m. Monday through Thursday. For more information and future exhibitions, visit the UIS Visual Arts Gallery website.
Location
Visual Arts Gallery, HSB 201