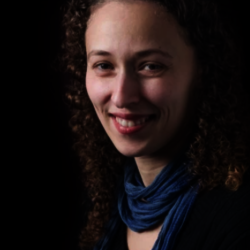 Title(s):
Associate Professor of Ethnomusicology/UIS Music Program Director
Yona Stamatis joined the University of Illinois Springfield faculty in 2012. An ethnomusicologist specializing in rebetika music of Greece, Dr. Stamatis researches music as a vehicle for bringing about social change. Her dissertation, Rebetiko Nation: Hearing Pavlos Vassiliou's Alternative Greekness Through Rebetiko Song (2011) examines music as counter-hegemonic practice within the context of national identity politics in Greece and in the European Union. Her secondary research area is music education as a means for transformative learning and the development of new methodologies for student-centered music and social justice education. Select publications include, "Voicing Belonging: Contemporary Rebetika Performance as Carnivalesque," in Journal of Interdisciplinary Voice Studies. Vol. 2, No. 2, (Fall 2017); "Rebetika and Catharsis: Cultural Practice as Crisis Management" in Voices: A World Forum for Music Therapy Vol. 15, No. 3 (2015) and "Towards a Philosophy of Student-Centered Music and Social Justice Learning," in Engaging Students: Essays in Music Pedagogy Journal Vol. 2 (2014).
Dr. Stamatis has received a number of grants to further her research including two Competitive Scholarly Research Grants from UIS, a Fulbright Award for research in Athens, Greece and a Constantine Tsangadas Fellowship for Hellenic Studies Research. Before joining the UIS faculty, Dr. Stamatis was a Mellon Postdoctoral Fellow in Ethnomusicology at Kalamazoo College where she taught courses in world music.
Professor Stamatis has spoken as a guest lecturer at numerous universities and academic institutions including Lincoln College, Indiana University, Bowling Green State University, the University of Michigan and the Athens Centre. She has presented papers at various academic conferences including the Society for Ethnomusicology, the Modern Greek Studies Association, and the London Institute for Music Research.
Dr. Stamatis serves on the board of the Anatolian Ecumene Special Interest Group of the Society for Ethnomusicology and on the Ethnomusicology Advisory Board of the College Music Society. At UIS, she serves on numerous committees including the Standing Scholarship Committee (co-chair) and the Peer Review of Teaching Committee (chair). She is a member of the Society for Ethnomusicology, the Modern Greek Studies Association and the College Music Society.
At UIS, Professor Stamatis teaches a variety of music courses, including "Music and Social Justice", "American Music", "Musics of the World," and "Music Appreciation". She is the director the UIS Orchestra. As a performer, Dr. Stamatis plays violin with various local orchestras including the Illinois Symphony Orchestra and the Millikin-Decatur Symphony Orchestra. She also plays violin and bouzouki with world-renowned Greek rebetika group, Rebetiki Istoria in Athens and on its bi-annual North American concert tour.
Education
Ph.D. in Musicology, University of Michigan
M.M. in Musicology, University of Michigan