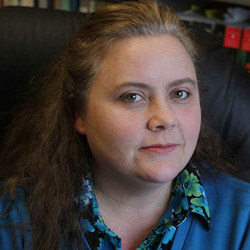 Department(s):
College of Liberal Arts and Sciences Administration
English and Modern Languages
Title(s):
Interim Associate Dean
Professor
Dr. Helton publishes on and teaches ethnic and regional American literatures and cultures. She holds a Ph.D. in American literature with an concentration in Women and Gender Studies from Louisiana State University and B.A. and M.A. degrees in English with a concentration in Education from North Carolina State University. Her most recently published article analyzes truth-telling in a historical graphic narrative, Escape to Gold Mountain, written by an author of Chinese descent. Other notable publications have focused on Blackhawk's celebrity in the nineteenth century, Richard Wright's novel Black Boy as a survival guide, and regional identification in Lee Smith's Fair and Tender Ladies. Current projects include analyses of the graphic novel, The Magic Fish, of female gamers and digital activism in the graphic narrative, In Real Life, and an assessment of the department's attempt to host a graduate program in digital humanities at UIS.
During her career, Dr. Helton has taught more than 30 different courses at every level both online and on-ground. She sees teaching as a political act that reveals the structures of power in texts, in curriculum, in the discipline, and in the institution. Whether in Video Games and Gaming, Early American Literature, Children's and Young adult Literature, or Monsters in Literature and Film, she focuses on how metaphor and genre transform cultural ideas into texts that accept or resist conventions. She has won awards for teaching at UIS and NC State.
As a servant leader, Dr. Helton has been dedicated to the improvement of curriculum on UIS' campus. She served as interim associate dean of the college, English Department chair, Director of First-Year Writing, Faculty Associate in both the dean's and provost's offices, Chair of the General Education Council, and Co-Chair of the General Education Review Committee. She has conducted many faculty development workshops, brought multiple speakers to campus, and led community discussions in the central Illinois region. She won the university's Spencer Award for service in 2020.