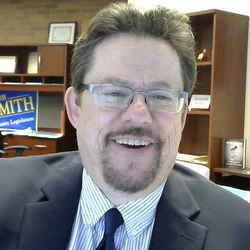 Department(s):
Pub Affairs and Administration Admin
School of Public Management and Policy
Robert W. Smith, Ph.D. is Dean of the College of Public Affairs and Administration. Dean Smith provides the overall academic leadership, budgetary oversight and strategic direction for his College. Prior to his leadership role at UIS Dr. Smith was a Dean at Savannah State University (GA), Department Chair at Kennesaw State University (GA) and Graduate Program Director at Clemson University. Before joining the Academy, Dr. Smith served as a Senior Budget Official for the State of New York División of the Budget. He also served for several years on the staff of former US Senator and UN Ambassador Daniel Patrick Moynihan. His experiences also include local government administration, leading nonprofit organizations and managerial posts in the private sector. He is widely published in the areas of public budgeting and finance, and ethics in government. Dr. Smith seeks to establish his College as the premier public affairs program in the State, expand the relevancy and impact of faculty and student research in the arena of public service, and better serve citizens of the State with a keen focus on engagement, participation while reinforcing our institutions of democracy..