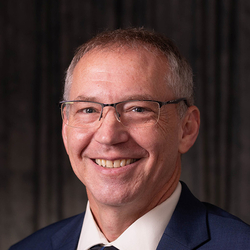 Department(s):
School of Public Management and Policy
School of Public Management and Policy
School of Public Management and Policy
Title(s):
Associate Prof.
Associate Prof.
Sum Prog Administration
Office Location
One University Plaza
Bob Blankenberger is an associate professor in the Public Administration Department. He received his Ph.D. in Public Policy Analysis and Administration from St. Louis University in 2005. He served as Interim Associate Vice Chancellor for Undergraduate Education at UIS during the 2016-18 academic years and as chair of the Public Administration Department from August 2015 - 2020. His most recent position before joining UIS was Deputy Director of Academic Affairs and Student Success at the Illinois Board of Higher Education. There he was responsible for oversight of new institution and degree program approval and review for Illinois postsecondary institutions, reviewed and revised administrative rules for oversight of postsecondary institutions in Illinois, developed the Illinois Articulation Major Initiative, was the Academic Affairs point person for the Board for implementation of performance funding legislation, and was co-developer of legislation to transfer authority over private business and vocational schools to the Board of Higher Education. Previous to his work at IBHE, he served in a variety of roles at Springfield College in Illinois – Benedictine University including faculty and department chair, Interim Dean of Academic Affairs, Associate Dean of Academic Affairs and Registrar, Financial Aid Director, and Dean of Students.
Courses Taught
Dr. Blankenberger has taught several courses at UIS including among others PAD 653 Public Policy Seminar, PAD 571 Capstone in Public Administration, PAD 501 Introduction to the Profession, PAD 506 Public Policy for Managers, PAD 534 Program Implementation, PAD 441 Contemporary Issues in Policy, PAD 470. Research Methods and Management, and PAD 471. Public Administration Senior Capstone.
Recent Publications
Google Scholar Profile - https://scholar.google.com/citations?hl=en&user=D3xDxwcAAAAJ
ORCID - https://orcid.org/0000-0002-5025-4880
Blankenberger, B., Gehlhausen Anderson, S., & Lichtenberger, E. (2021, online ahead of print). Improving institutional evaluation methods: Comparing evaluations using PSM, Exact and Coarsened Exact Matching. Research in Higher Education. DOI: 10.1007/s11162-021-09632-0. Available at https://link.springer.com/article/10.1007%2Fs11162-021-09632-0
Blankenberger, B., Slagle, D., & Williams, A. (2021). Are online doctoral program graduates viewed as hireable for academic positions? The case of public affairs programs. The Journal of Continuing Higher Education. DOI: 10.1080/07377363.2020.1859349
Gehlhausen Anderson, S. & Blankenberger, B., (2020). Validation and living learning communities: An evaluation case study. Journal of College Student Retention: Research, Theory & Practice. DOI 10.1177/1521025120970934
Blankenberger, B. & Williams, A. (2020). COVID and the impact on higher education: The essential role of integrity and accountability. Administrative Theory & Praxis, 42(3), 404-423. https://www.tandfonline.com/doi/pdf/10.1080/10841806.2020.1771907?needAccess=true
Blankenberger, B. (2020). Higher education policy environment and accountability. In D. Slagle & A. Williams (Eds.), Practicum in Public Administration (pp. 11-43). Birkdale Publishers.
Blankenberger, B., McChesney, K. Y., Schnebly, S. M., Moranski, K. R., & Dell, H. (2017). Measuring racial bias and general education assessment. The Journal of General Education, 66(1), 42-59.
Blankenberger, B., Lichtenberger, E., & Witt, M. A. (2017). Dual credit participation, college selectivity, and enhanced degree attainment. Educational Researcher 46(5), 259-263. http://journals.sagepub.com/doi/full/10.3102/0013189X17718796
Bland, T. & Blankenberger, B. (2017). Collaboration challenges and the construction of complex data systems: Lessons from the development of the Illinois Longitudinal Data System. Public Administration Quarterly, 41(4), 695-740. Available at https://paq.spaef.org/article/1789/Collaboration-Challenges-and-the-Construction-of-Complex-Data-Systems-Lessons-from-the-Development-of-the-Illinois-Longitudinal-Data-System
Blankenberger, B., Lichtenberger, E., Witt, M. A., & Franklin, D. (2017). Diverse students, high school factors, and completion agenda goals: An analysis of the Illinois class of 2003. Education and Urban Society 49(5), 518-545. DOI: 10.1177/0013124516644047