UIS Prairie Stars

As Prairie Stars, we enjoy every day; mindful that we are here to learn, work, play and win. We challenge ourselves and draw strength from each other in a sustained effort to become champions in the classroom and competition. We actively collaborate with our campus and community through the sharing of expertise and resources in advancing strategic partnerships that benefit the larger community. We hold ourselves and others to the highest standard of civility, dignity and compassion while embracing the principles of equality and inclusion.
UIS Prairie Stars
Campus Recreation
The Department of Campus Recreation provides recreational and wellness opportunities to enrich the lives of our students and the UIS community. We are also an Institutional Member of the NIRSA Leaders in Collegiate Recreation.
The UIS campus sports multiple indoor and outdoor facilities:
The Recreation and Athletic Center (TRAC)
Cricket Field
Challenge Course
Disc Golf Course
Kiwanis Stadium Basketball Court
REC Park
South Fields
Sport Club Field
Student Life Build Gymnasium
Tennis Courts
Sport Clubs
Campus Recreation oversees all Sport Club operations on campus by providing guidance and financial assistance. Below is a current list of available sport clubs.
Intramurals
Intramural sports are structured individual, dual and team sport competitive activities scheduled for Rec Members with a valid UIS I-card. Campus Recreation utilizes IMLeagues to manage its Intramural Program.
Fitness & Wellness
The state-of-the-art Recreation and Athletic Center (TRAC) is a 72,000 square-foot facility managed by the Department of Campus Recreation and houses the offices of UIS Intercollegiate Athletics. TRAC boasts a 23,000 square-foot arena available for multiple indoor sports, three fitness areas, a Multi-Purpose Room and two racquetball/squash courts. TRAC also serves as the home of UIS Men's and Women's Basketball and UIS Women's Volleyball.
To help promote health and fitness, Campus Recreation offers personal training, fitness assessments, group fitness and a campus-wide wellness initiative that promotes wellness in all aspects of life.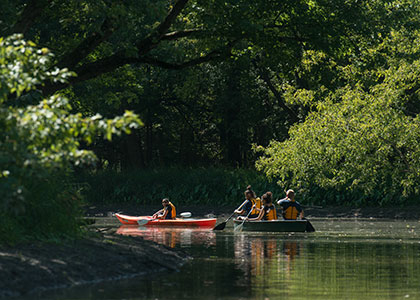 Outdoor Adventures
Campus Recreation developed an Outdoor Adventure program to provide an enjoyable, challenging, meaningful and educational experience that will allow individuals and groups to learn the skills necessary for survival and safety in the outdoors as well as develop an appreciation for the environment. Outdoor Adventure trips are led by experienced trip leaders and are open to students and recreation members.
---
Athletics Events