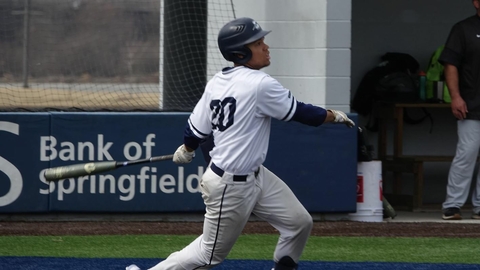 University of Illinois Springfield baseball player Zion Pettigrew signed a free agent with the Washington Nationals organization this week. Pettigrew is a two-time All-American for the Prairie Stars, and is the first player in conference history to win back-to-back Player of the Year honors.
 
Pettigrew finished his career with a .893 slugging percentage, the fourth-best mark in NCAA Division II history. He led the nation this past season with 95 RBI and 1.61 RBI per game. He hit 28 home run, the tenth-most in a season in DII history. Pettigrew's 201 total bases and 95 RBI were also top-20 single-season marks in the national record book.
 
Pettigrew was the leader on a UIS offense this past season that averaged over 10 runs a game. He had a .420 batting average and .534 on-base percentage. He recorded 79 runs, 94 hits, and 23 doubles, while walking nearly once a game.
 
For his career, Pettigrew played 110 games, and collected 150 runs, 183 hits, 45 doubles, two triples, 50 home runs, and 168 RBI. He batted .428 with an .893 slugging percentage and .522 on-base percentage. He is UIS's all-time leader in batting average, slugging percentage, and on-base percentage, and ranks in the top-five in career runs, hits, doubles, home runs, RBI, and total bases.