Two University of Illinois Springfield employees were honored with Chancellor's awards recognizing academic professional and civil service excellence during a ceremony in the Student Union Ballroom on Wednesday, April 5, 2023.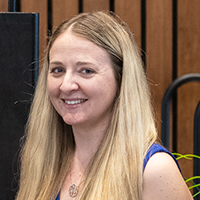 The Chancellor's Academic Professional Excellence (CAPE) Award was presented to Ashley Hall, director of the UIS Student Union. She has worked at UIS since 2018.
Hall oversees the operations of the Student Union Building, ensuring it is a space that is safe, inclusive and welcoming for all students. She manages a team of student workers and professional staff. She has championed the UIS CARES Supply Stop, which provides school supplies to students who are in need, and recently started an initiative that allows students to display their artwork in the union.
"She makes sure the space is student-focused and student-friendly," said her nominator. "Ashley is always helpful, positive and friendly. Her devotion to her work is obvious and the entire campus community is better because of it."
Within the Student Affairs Division, she has worked on ways to create an environment where peers feel connected, welcomed and celebrated. She started by sending birthday cards within the Student Union, which has since grown into the Kudos Club that allows other employees to sign up to receive cards.
Outside of the Student Union, she is part of the Commencement Committee and oversaw the transition of two suites in PAC into nursing rooms for new mothers. She is also very involved with the Associated Colleges Unions International (ACUI) where she serves as the Regional Leadership Team co-communications coordinator.
"I feel incredibly blessed to be in the role that I am in; to be seen by a UIS community member and nominated, makes my heart happy and also helps me feel that I am in a small way having a positive impact on the community in which I serve," Hall said.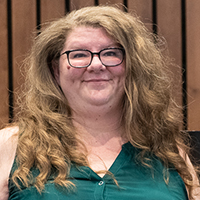 The Chancellor's Award to Recognize Excellence in Civil Service (CARE) was presented to Jamie Weber, administrative assistant for UIS Brookens Library. She started at UIS in 2014, and moved to the library in 2020.
Her nominator describes her as "dedicated, hardworking, ethical, loyal, personable and compassionate."
Weber serves on the Civil Service Advisory Council (CSAC) as treasurer and a member of the executive committee, in addition to serving on several committees. She is chair of the Chancellor's Award for Recognizing Excellence in Civil Service (CARE) committee and leads the Staff Appreciation Day (CSAD) Committee. Weber represents UIS on the University of Illinois System's Business and Finance Policy Advisory Group (PAG).
"Jamie serves as a State and University Employees Combined Appeal (SECA) liaison, an ambassador for the Faculty & Staff Campaign, and her work with CSAC has been unending with her committing every year to recognize talents and improve working conditions," said her nominator. "She is the civil service employee that every department should have, and we are pleased that she has not only settled into her position in Brookens Library, but has claimed it as her own."
Weber thanked the people who have encouraged, inspired and helped her learn and grow at UIS.
"I am honored to receive this award, and blessed to know that the care and effort I put into my work has helped someone else on our campus," she said. "They say 'It takes a village,' and I am especially thankful for the UIS village that helped 'raise' me."