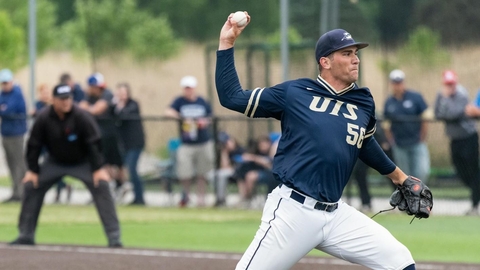 University of Illinois Springfield baseball pitcher Quinn Gudaitis was selected today in the Major League Baseball Draft. He was picked in the 16th round by the Detroit Tigers.

Gudaitis is the second Prairie Star player selected in program history. He joins Andrew Dean who was picked in the 18th round of the 2019 draft.

Gudaitis transferred to UIS prior to the 2022 season from Illinois Wesleyan University. He was a second-team all-GLVC pitcher, and was one of the top strikeout pitchers in NCAA Division II. Gudaitis was seventh in the nation with 13.57 strikeouts per nine innings. He also ranked in the top-10 in the GLVC in wins, strikeout-to-walk ratio, and hits allowed per nine innings.

Gudaitis finished the year with an 8-3 overall record. He started 14 games and came in relief three times. He had a 4.34 ERA and a .248 opponent batting average. He struck out 100 batters in 66 1/3 innings, and allowed just 64 hits and 29 walks.

Gudaitis played a key role in UIS going 48-11 this past season, and advancing to the NCAA Division II National Championship tournament for the first time in program history.