Visual Arts Gallery: Code of Complication by Betsy Dollar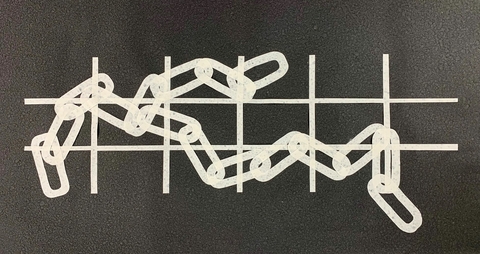 The UIS Visual Arts Gallery is pleased to present "Code of Complication," an exhibition by Springfield-based artist Betsy Dollar. This exhibition will open on Thursday, Oct. 21, and will run through Thursday, Nov. 18.

A reception will be held on from 5:30-8 p.m. Thursday, Oct. 21, at the gallery.

Betsy Dollar, who serves as the executive director of the Springfield Art Association, is well-known for her handmade paper works that span from functional handmade books to large-scale immersive installations.

"A web is a snare," Dollar said, in speaking to the newly-developed works for this exhibition. "The spider weaves its complex, alluring web to capture its prey. In our current reliance on the worldwide web, we ignore the idea that a web is a trap. Before the worldwide web, I was using webs as symbols of communication and interconnectivity. For as long as I can remember I have seen the world through a complex series of lines and tangles that connect as well as bind. In the best of circumstances these connections generate possibilities, new horizons, and freedom. In the worst of circumstances, they can be a snare that limits and damages.

"Through these works of handmade paper, an exploration of interconnection and consequence continues, with its beauty and its traps, and with the application of a binary of symbols and patterns that attempt to apply order and balance to the complexity and chaos."
Dollar grew up in a family of artists in near Chicago. She initially attended the Minneapolis College of Art and Design before later moving to Boulder, Colorado. There, she attended the University of Colorado Boulder and received a bachelor's degree in fine arts and a master's degree in fine arts in printmaking and papermaking. She went on to own an audio-visual production company, taught foundations and printmaking at the University of Colorado Boulder, and worked as both a commercial artist and fine artist. In 2006, she left Boulder to return to Minnesota where she worked as an artist, curated exhibitions and taught printmaking and publications at St. Catherine University. In 2009, Dollar was appointed as executive director of the Springfield Art Association (SAA) and has lived in Springfield ever since. In the time that she has spent leading the SAA, she has celebrated the organization's 100th anniversary and launched it into its second century with a successful capital campaign and renewed identity. She works primarily in handmade paper, book arts and installation. Her work is in both private and public collections in the United States

This program is partially supported by a grant from the Illinois Arts Council Agency.

The UIS Visual Arts Gallery is centrally located on the UIS campus in the Health and Science Building, room 201 (HSB 201). Gallery hours are 11. a.m. – 6 p.m. Monday through Thursday. Masks are required indoors on campus.

For more information, visit the UIS Visual Arts Gallery website at uis.edu/visualarts/gallery or contact the gallery at 217-206-6506 or alach3@uis.edu.

Location
UIS Visual Arts gallery, HSB 201
Start Date/Time
Thu, Oct 21, 2021 11:00 am
End Date/Time
Thu, Nov 18, 2021 6:00 pm