Reception Tonight at the UIS Visual Arts Gallery
José Guadalupe Garza: AUTOBIOGRAPHY OF A BROWN BUFFALO II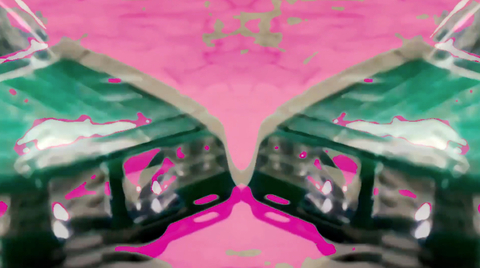 The University of Illinois Springfield Visual Arts Gallery is pleased to present "AUTOBIOGRAPHY OF A BROWN BUFFALO II," an exhibition by St. Louis-based artist José Guadalupe Garza.
A reception will be held from 5:30 – 8:00 p.m. TONIGHT in the gallery.
The exhibition title, "AUTOBIOGRAPHY OF A BROWN BUFFALO II," references a novel written by activist and attorney Oscar Zeta Acosta. The book is his own fictionalized account of coming of age, as a Chicano in the sixties, as he searches for his personal and cultural identity. Fifty years later, this "sequel" reexamines politics, race, mass media and capitalism through cinematic histories and popular culture – and how they relate to the Latinx experiences in the present-day United States. Composed of photographs, video and readymades, the images reflect current conditions through Hollywood blockbusters, lucha libre, lowrider car culture, the Florentine Codex and rock music.
Garza was born along the U.S./Mexico border. He is an artist, educator and veteran working in new and traditional media, utilizing cinema and popular culture as theoretical frameworks to explore the changing demographic and cultural landscape of the U.S. with significance to the Latinx experience.
He has exhibited nationally and internationally. He earned a bachelor's degree in fine art focused on drawing from the University of Florida, a master's degree in fine arts with a visual art focus from Washington University in St. Louis, and currently serves as the Academic Programs Coordinator for the Mildred Lane Kemper Art Museum. Garza is also a founding member of Monaco, an artist-run cooperative in St. Louis and serves on the boards of several non-profit and artist organizations.
This program is partially supported by a grant from the Illinois Arts Council Agency.
The UIS Visual Arts Gallery is centrally located on the UIS campus in the Health and Science Building, room 201 (HSB 201). Gallery hours are 11. a.m. – 6 p.m. Monday through Thursday. Masks are required, regardless of vaccination status, on campus. For more information, visit the UIS Visual Arts Gallery website at uis.edu/visualarts/gallery or contact the gallery at 217-206-6506 or alach3@uis.edu.
Location
UIS Visual Arts gallery, HSB 201
Start Date/Time
Thu, Sep 30, 2021 5:30 pm
End Date/Time
Thu, Sep 30, 2021 8:00 pm