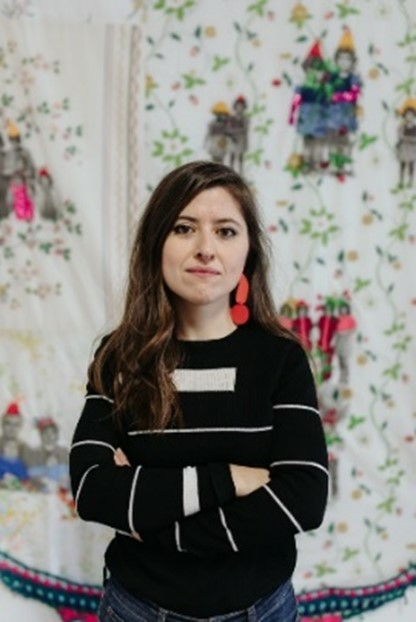 Written in Oya: Symbolic Patterns and Women's Work | Hale Ekinci | Thursday, October 27, 5:30 PM | Brookens Auditorium
Contemporary artist Hale Ekinci will share and discuss images of her art practice, in which she relies on fiber techniques, found textiles, and images from family archives to explore phases of acculturation, immigrant identity, and ideas about gendered labor. She will explore her use of an Islamic tradition of ornamentation, juxtaposed with portraiture, as a subversive strategy: seeming like merely a tool of beautification, ornamentation can proliferate and overwhelm forms that it initially sets out to embellish, which echoes different strategies of acculturation: integration, separation from, assimilation to, or social marginalization. By utilizing found materials and fiber crafts, she questions the value and worth assigned to materials and women's work. 
In conjunction with this event, the UIS Visual Arts Gallery is hosting a solo exhibition of works by Hale Ekinci. You are invited to attend the opening reception for this exhibit at the UIS Visual Arts Gallery immediately following this event. Hors d'oeuvre and refreshments will be served. The gallery is located in HSB 201, and regular gallery hours are Monday-Thursday 11 am - 6 pm. The exhibit will run through November 17.
Co-Sponsored by the UIS Visual Arts Gallery
Location
Brookens Auditorium