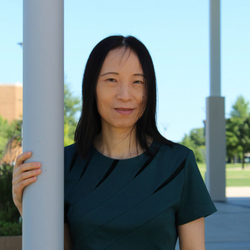 Department(s):
College of Liberal Arts and Sciences Administration
English and Modern Languages
Title(s):
Interim Dean
Professor
Lan Dong is the Louise Hartman and Karl Schewe Endowed Professor in Liberal Arts and Sciences and Professor of English at the University of Illinois Springfield. She has taught Asian American literature, world literature, comics and graphic narratives, and children's and young adult literature in person and online, and has published numerous articles and essays in these areas. She is the author or editor of several books, including: Reading Amy Tan, Mulan's Legend and Legacy in China and the United States, Transnationalism and the Asian American Heroine, Teaching Comics and Graphic Narratives, Asian American Culture: From Anime to Tiger Moms, and 25 Events That Shaped Asian American History. She is a recipient of University Scholar, Pearson Faculty Award, Faculty Excellent Award, among other honors and recognition.
Dr. Dong served as Department Chair of English and Modern Languages from 2017 to 2019 and Interim Dean of the College of Liberal Arts and Sciences from 2021 to 2022, and is currently Interim Dean of the College of Liberal Arts and Social Sciences.