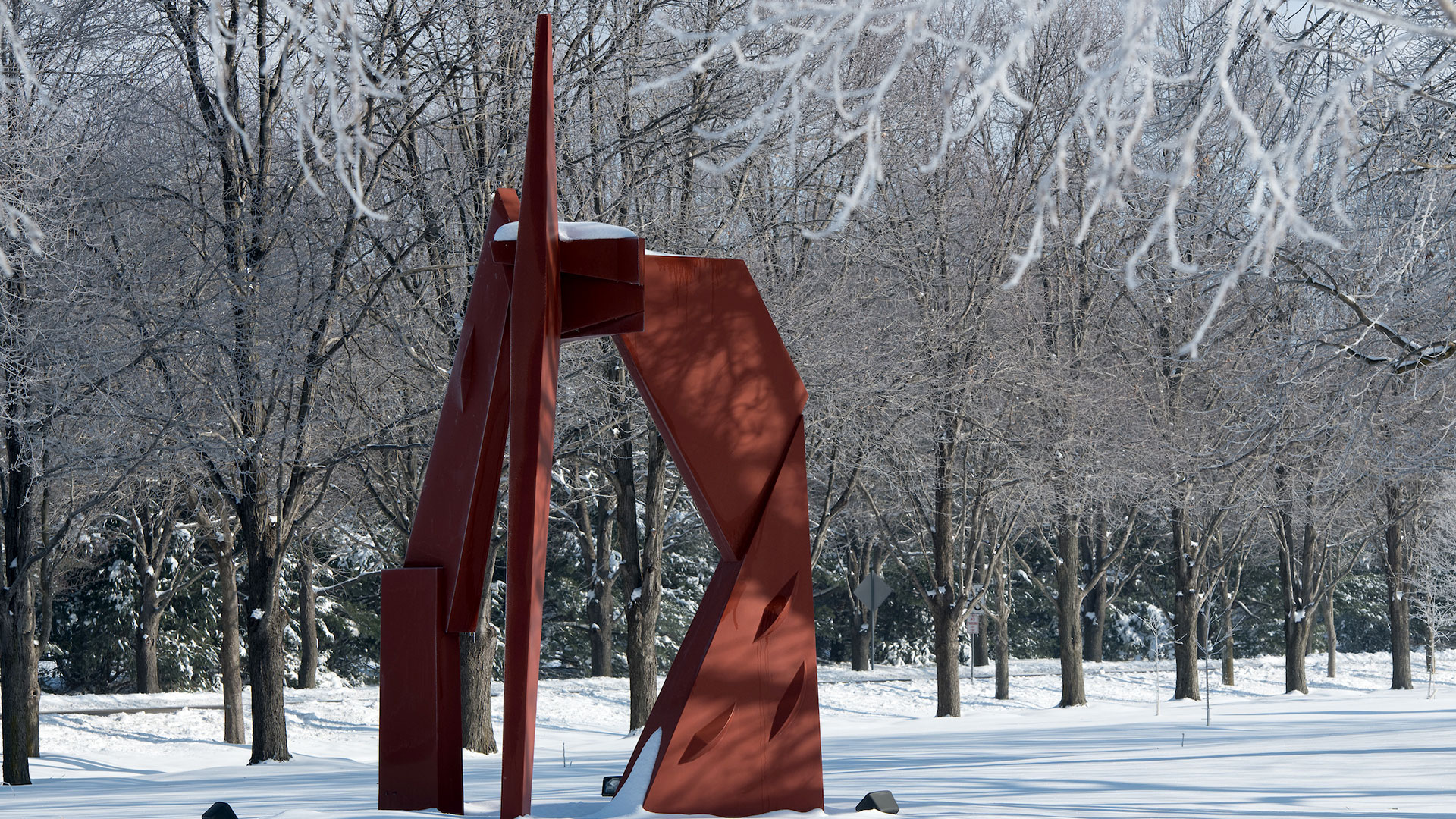 ---
"Impermanent Column" – by Thomas Skomski
"Impermanent Column" a 48-ton sculpture created by Thomas Skomski, a sculptor whose work appears in private and public collections throughout the world. The piece, specially designed for a university setting, was dedicated October 30, 1993.
The sculpture is made up of four limestone gray concrete columns each weighing 12 tons and standing nine feet by seven feet by seven feet.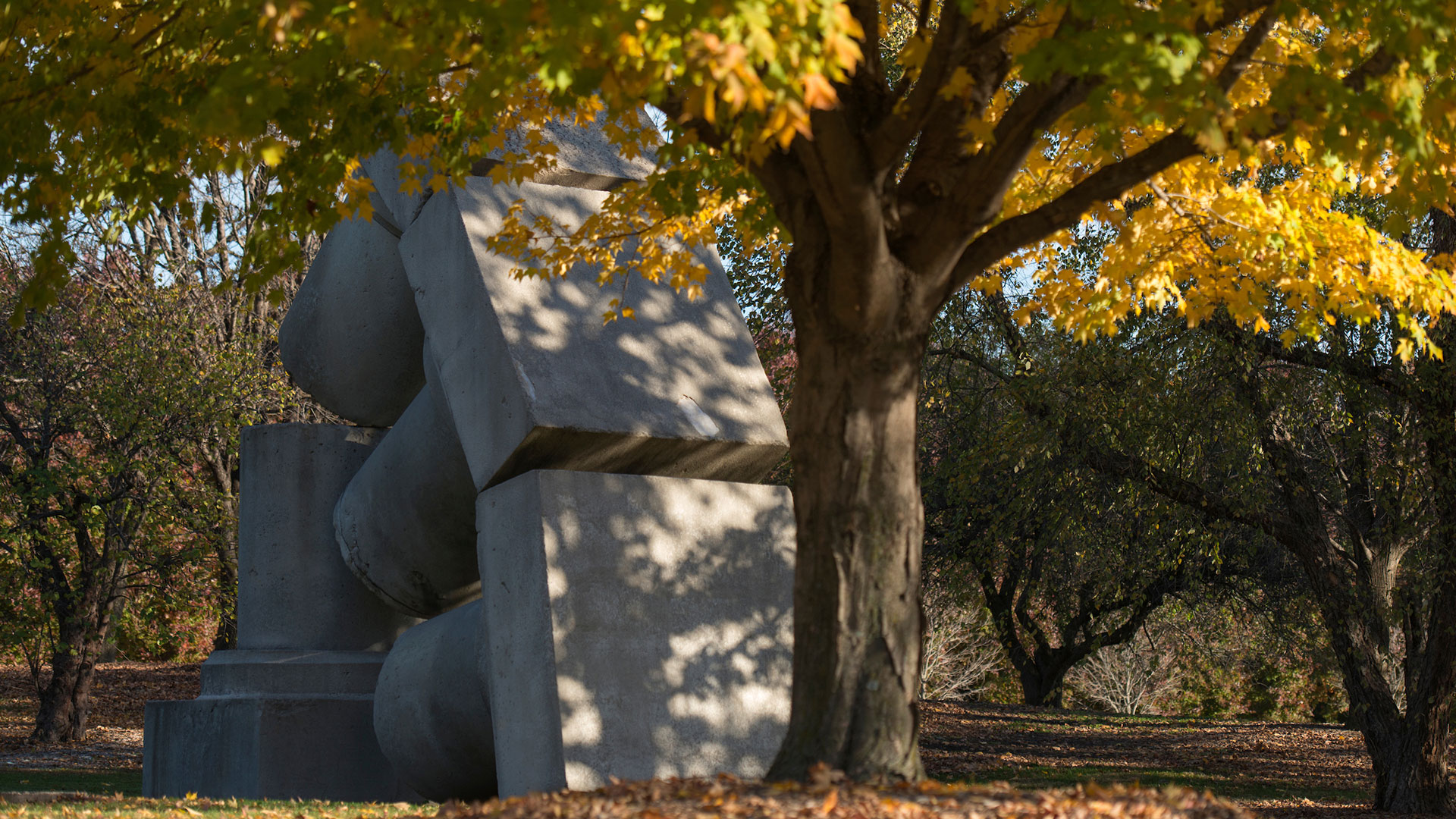 ---
"Dodger" – by John Henry
John Henry, a sculptor known worldwide for his large-scale public works of art, supervised the installation of "Dodger" on May 22, 2012, at the University of Illinois Springfield. "Dodger" is a large yellow sculpture constructed of linear steel elements arranged to intertwine in dramatic fashion.
The sculpture stands 15-feet high and extends to a length of 25 feet and width of 12 feet. The artwork was donated to UIS by Robert and Ruth Vogele and is located in front of the Public Affairs Center.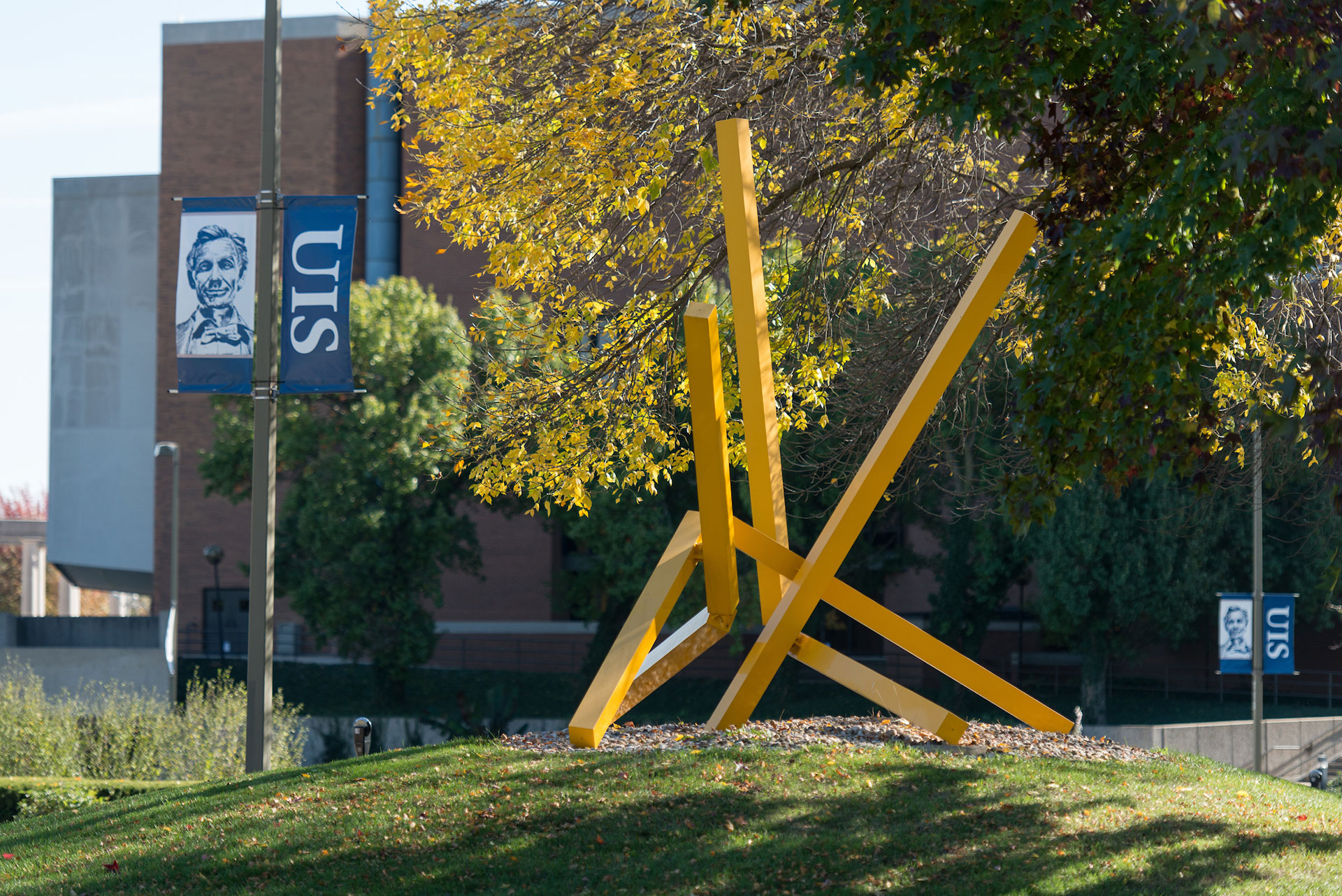 ---
"The Young Lawyer" – by George Lundeen
The University of Illinois Springfield unveiled "The Young Lawyer," a 6′ 4″ statue of Abraham Lincoln sculpted by renowned artist George Lundeen, on May 10, 2016. The statue is located on the quad between the Public Affairs Center and University Hall, west of the colonnade.
The statue depicts a happy Lincoln as he would have appeared when he was studying to become a lawyer in his late 20s or early 30s.
The statue was made possible by the John N. Chester Estate Fund, an endowed gift fund created with the intent of adding to the attractiveness of the University of Illinois campuses.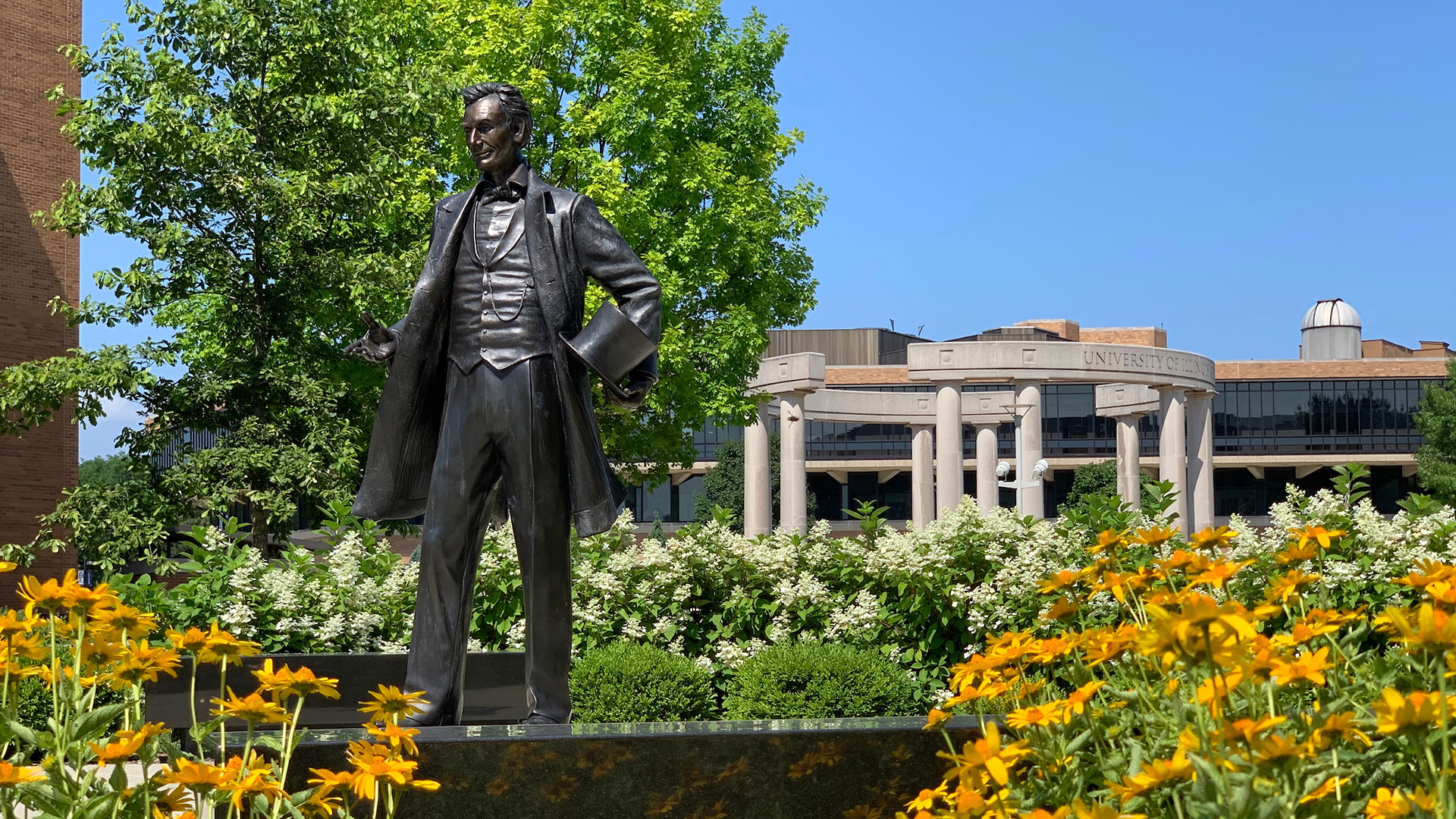 ---
"Shakespeare" – by Gary Lee Price
The University of Illinois Springfield unveiled a new Shakespeare Garden on September 29, 2016, marking the 400th anniversary of the poet and playwright's death in 1616.
The themed garden, located in the Patton Park area just north of Brookens Library, features plants often mentioned in William Shakespeare's work. It includes signs near each plant with the relevant quotation and reference to the appropriate play or poem, as well as a fountain, walkways and benches.
The centerpiece of the Garden is a life-sized bronze sculpture of the writer, titled "Shakespeare," by renowned sculptor Gary Lee Price. The sculpture depicts Shakespeare relaxing on a garden bench – an open invitation for visitors to sit beside him for a chat or a photo.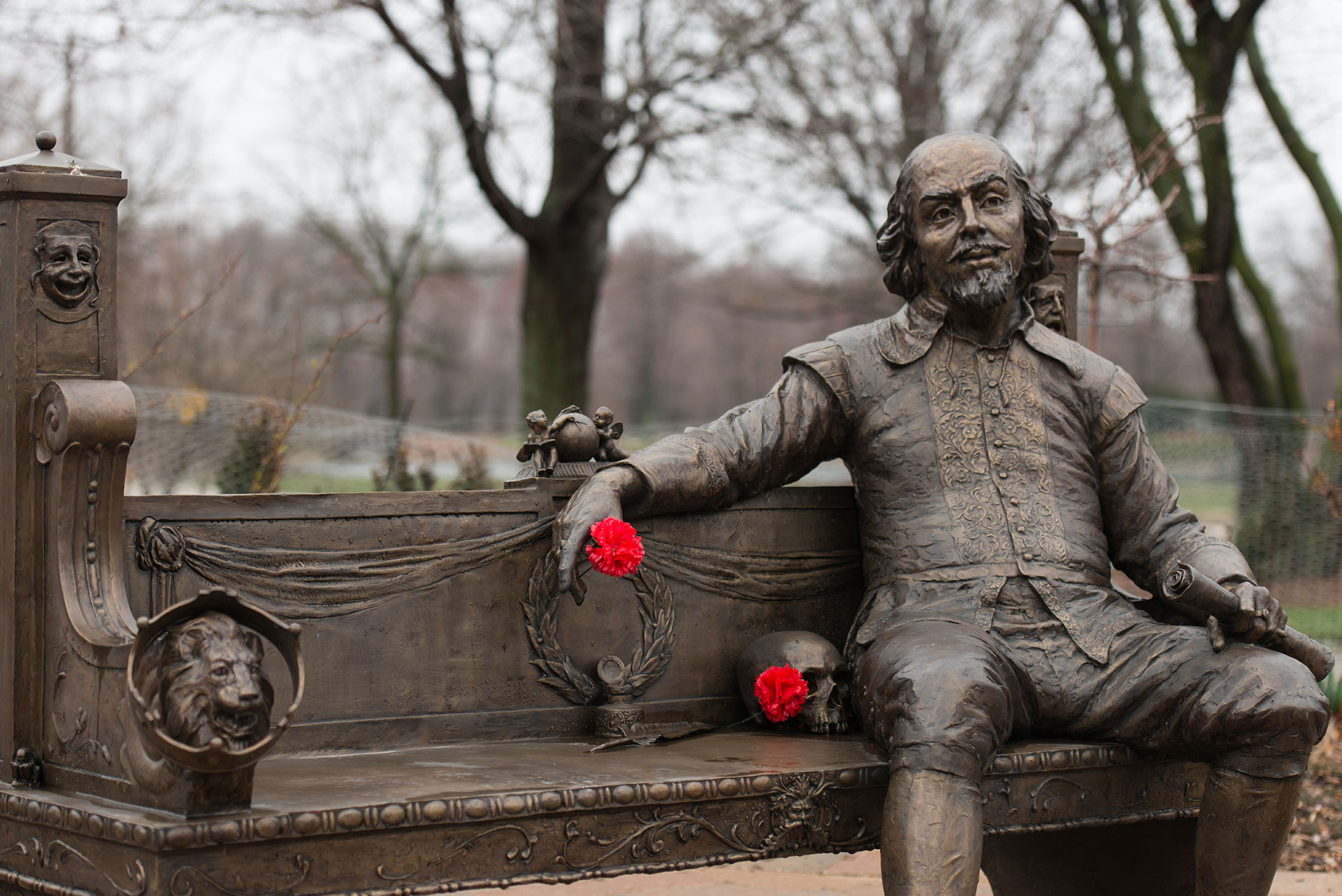 ---
Related Links
Find information about the focal point of the UIS quad, The Colonnade, on the Office of Web Services website.
Many thanks to the UIS Archives for sculpture information and you can find more on their website.
---
The Office of Web Services has created a layered map to help you locate specific places on campus. One layer is dedicated to UIS sculptures, but feel free to activate other layers for locations on campus.