The University of Illinois Springfield presented awards for alumni achievement, service and humanitarianism during the annual UIS Alumni Gala in the UIS Student Union on Feb. 24, 2023.
The 2023 Alumni Achievement Award for outstanding success and national or international distinction in one's business, profession or life's work was presented to Mitch Pugh, a native of Riverton. Pugh earned his bachelor's degree in English from UIS in 1998.
He is a Pulitzer Prize-winning journalist and is currently the executive editor of the Chicago Tribune Media Group. He oversees editorial operations of the Chicago Tribune and six other daily newspapers, including the Daily Southtown, The Post-Tribune, the Elgin Courier and others, along with 33 weeklies.
As a student at UIS, Pugh began his career in journalism as a part-time sportswriter for the Bloomington Pantagraph and then The State Journal-Register. He credits professor emerita Jackie Jackson, the legendary creative writing instructor and author, as a significant influence. During one of her classes, Pugh met his future wife, poetry student Peri Gonulsen Pugh, the daughter of former UIS athletic director and soccer coach Aydin Gonulsen.
After graduation, Pugh gained experience and responsibility at multiple publications around the country. He has served on several advisory groups and helped significantly increase the online presence and profile of publications.
Pugh led a team at The Charleston Post and Courier that was awarded the 2015 Pulitzer Prize for public service for its in-depth series on the alarmingly high rate of domestic violence in South Carolina. Their reporting led to the creation of laws in the state which better protect women. During Pugh's tenure, the publication was a Pulitzer finalist on four other occasions. In 2016, the publication was named one of Society for News Design's 40 Best Designed Newspapers in the World.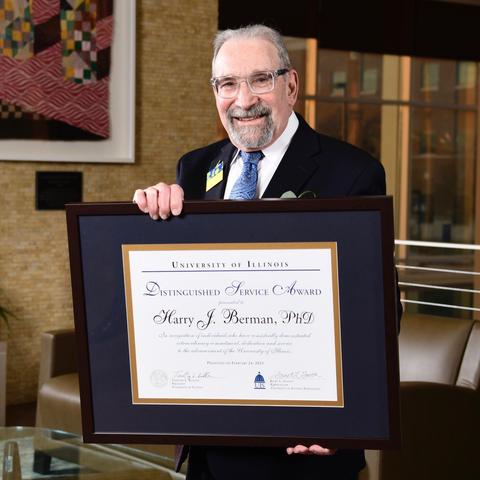 The 2023 Distinguished Service Award for extraordinary commitment, dedication and service to the advancement of the University of Illinois was awarded to Harry J. Berman of Springfield. Berman served UIS for over 35 years as a professor, provost and interim chancellor.
Berman taught in the classroom for over 20 years and is one of the founding professors of the gerontology program. His research publications address topics such as retirement decisions, relations between adult children and aging parents and personal journals of later life. He was named Associate Vice Chancellor for Academic Affairs due to his dedication to academic endeavors. This commitment to education, along with his collaborative spirit, high-energy approach and effective leadership, would become the hallmarks of his reputation in academics and to the public as a whole.
He has been active in the Springfield community, having served on the boards of the Community Foundation for the Land of Lincoln and the United Way of Central Illinois. He was the founding chair of the Springfield/Sangamon County Continuum of Learning. He currently serves on the board of Advance Illinois, a statewide education policy and advocacy organization.
Retiring with recognition as professor emeritus, he made a lasting contribution to UIS through his efforts to implement the teacher-scholar model, which attracts and retains faculty of excellence throughout the University. His service continues through the Harry and Deborah Berman Faculty Sabbatical Endowment and an endowed UIS scholarship.
Berman earned his bachelor's degree in psychology in 1969 from the University of Chicago and his doctoral degree in psychology in 1974 from Washington University in St. Louis.
The 2023 Alumni Humanitarian Award was presented to Dalitso S. Sulamoyo of Champaign. The award is given to those alumni who, through their outstanding involvement and dedication, have made a significant contribution of leadership or service which has improved or enriched the lives of others and the welfare of humanity.
He received two master's degrees from UIS – one in political studies in 1999 and the other in public administration in 2002. He is currently the CEO of the Champaign County Regional Planning Commission.
His firsthand experiences with poverty, dissatisfaction with a lack of action to correct injustice and familiarity with conflict have been influential to his success academically and professionally. He has dedicated his life to fighting poverty, ignorance, disease and all other faces of oppression. Eight years after arriving in the United States from Malawi, Southeast Africa, he became the youngest and first African American CEO of the Illinois Association of Community Action Agencies (IACAA).
Sulamoyo led IACAA for 16 years, which included advocacy on behalf on the impoverished and highly successful campaigns to generate numerous funding sources for the association of 40 not-for-profits and public entities that serve communities and economically challenged citizens. His work with the Illinois Community Action Development Corporation led to the development of $15 million in affordable housing complexes in West Frankfort, Beardstown and Hoopeston, Illinois. Sulamoyo also led a delegation to Port Au Prince, Haiti, to work with local Haitians to rebuild a school destroyed after the 2010 earthquake.
Among the numerous honors Sulamoyo has received is the Martin Luther King Jr. Humanitarian Award for his leadership in fighting for social justice.