The University of Illinois Springfield will hold its 52nd annual commencement ceremony at 2 p.m. Saturday, May 13, 2023, at the Bank of Springfield (BOS) Center, 1 Convention Center Plaza, Springfield. A total of 710 students will participate in the ceremony out of the 1,179 students who are eligible to graduate.
Tickets are not required for admission and seating will be available on a first-come, first-served basis. There is no reserved seating, except for special needs such as interpretive services and wheelchairs.
The doors to the main floor will open an hour before the ceremony. Overflow seating will be provided in the lower level of BOS Center.
Honorary degree to be awarded to Raymond Schroeder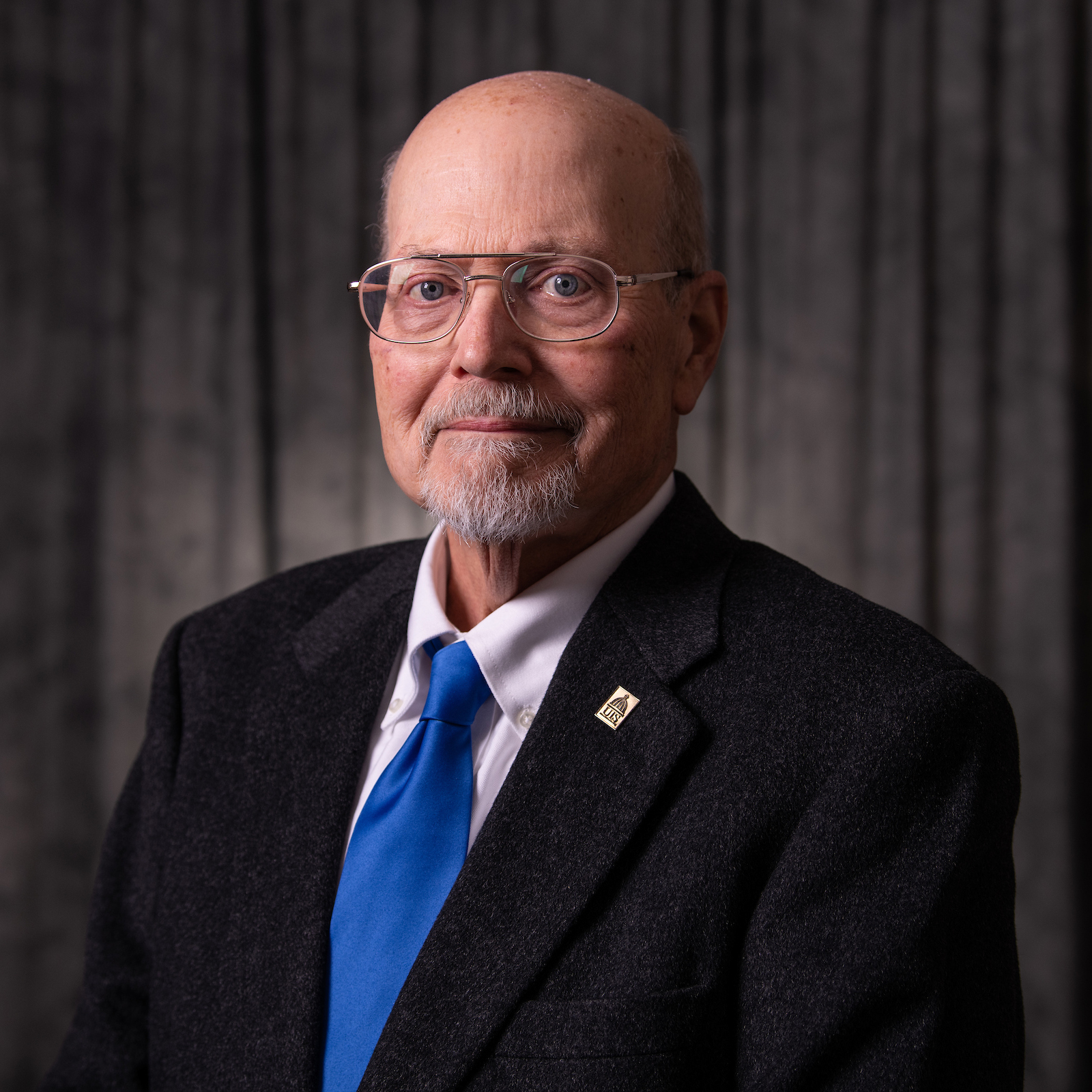 During the ceremony, an honorary doctorate of humane letters will be awarded to Raymond Schroeder, a retired professor who helped to establish UIS as a national leader in online learning. He is a UIS professor emeritus of communication and senior fellow at the University Professional Continuing Education Association (UPCEA).
Schroeder's professional career, now spanning more than half a century, continues to expand daily. Holding degrees in speech from Augustana College and radio and television from the University of Illinois Urbana-Champaign, he began his academic career as a part-time instructor of radio-TV in 1972. Serving as a radio news reporter for public radio station WILL at the time, he quickly expanded his academic appointment, becoming a full-time instructor in 1975. Two years later, Schroeder was hired at Sangamon State University (SSU), which became UIS in 1995, as an assistant professor of communication. He taught full-time while building a television studio and editing facilities at SSU. In 1984, Schroeder created the SSU Television Office and secured a 21-year sustaining contract for the university to provide community access cable television services in Springfield. He served as interim executive director of the SSU Institute for Public Affairs 1991-1993.
In 1997, Schroeder took a leadership role in the emerging field of online learning, establishing the UIS Office of Technology Enhanced Learning (OTEL). Beginning as a tiny unit, working out of a temporarily-vacant chemistry laboratory, OTEL launched servers, software and assembled expertise to support the delivery of online classes at UIS. Those efforts quickly grew into support for entire degree programs as Schroeder collaborated with Professor Burks Oakley II, then associate vice president for academic affairs and director of University of Illinois Online. Together, Schroeder and Oakley fostered the development and funding of multiple degree programs.
The strength and reputation of the UIS online programs grew quickly through the 1990s and into the 21st century. Both Schroeder and the university received many national awards and recognitions. Most notably the university was recognized repeatedly by the Sloan-Consortium (Sloan-C), later re-named the Online Learning Consortium (OLC). Among the most prestigious university-wide recognitions are the 2008 Sloan-C Ralph E. Gomory national award for Quality Education and the 2007 Sloan Consortium Excellence in Institution-Wide Online Teaching and Learning Programming. In 2009, UIS Provost Harry Berman joined Schroeder in conceptualizing and establishing the Center for Online Learning, Research and Service (COLRS) to create a unique holistic approach to integrating the internet into the three-part mission of faculty members. This UIS approach to online learning is often emulated at other leading universities.
Schroeder was individually honored nationally with the 2002 Sloan-C Most Outstanding Achievement in Asynchronous Learning Networks. Further, he received the 2002-2003 Sloan-C Distinguished Scholar in Online Learning award. In 2010, he joined 15 other national leaders, including Burks Oakley and UIS Professor Karen Swan, as the Sloan-C Inaugural Fellows. His Fellow citation reads: "For increasing access to higher education by cultivating a breadth of online degree programs and for chronicling the progress of the theory and practice of online education through new media." Also, in 2010, he received the Sloan-C Inaugural A. Frank Mayadas Leadership Award. The following year, he received the University of Illinois Alumni Association Distinguished Service Award. In the summer of 2011, Schroeder and the COLRS unit launched the innovative eduMOOC, which was, at the time, the largest online class with 2,700 students located in 70 countries worldwide.
In 2016, the American Journal of Distance Education and the University of Wisconsin, Madison awarded Schroeder the prestigious Mildred B. and Charles A. Wedemeyer Award for Outstanding Practitioner in Distance Education, and also that year, the United States Distance Teaching and Learning Association (USDLA) Hall of Fame Award for "significant contributions to the field of distance learning through leadership, technology, research and teaching." Schroeder has more than 250 national and international papers published or presented in his field, including many book chapters and keynote speeches. Today, 40 percent of UIS students are enrolled in online programs.
Schroeder continues his highly-productive career as a senior fellow of UPCEA. In that capacity, he publishes nationally and internationally, daily curated reading lists on professional, continuing and online education as well as the popular bi-weekly column "Online: Trending Now" column in Inside Higher Education. This year he continues his leadership by delivering national keynotes, workshops and conference presentations on the impact of generative AI in higher education.
Student speaker and faculty grand marshal announced
LaNise Nicole Kirk of Roodhouse, Illinois, who will be graduating with a master's degree in human development counseling, has been chosen as the student commencement speaker.
Beverly Bunch, a professor in the School of Public Management and Policy, has been named the faculty grand marshal. She earned a doctorate in public policy analysis from Carnegie Mellon University. Her research focuses on state and local government budgeting and financial management. For the past six years, she has been working with the Volcker Alliance on its Truth and Integrity in State Budgeting project.
Program marshals
Faculty in each academic program select one graduating student who best exemplifies the goals and spirit of that program to serve as student marshal for the ceremony.
College of Business and Management
Accounting
Timothy Leland Worlton - B.A.
Brianna Bush - M.A.
Business Administration
Rafael Rojas - BBA
Tzu-Hsun - MBA
Cybersecurity Management
Angelica Joyce Loyola - M.S.
Economics
Jack Michael Snyders - B.A.
Finance
Vincent H. Cho - M.S.
Healthcare Informatics
Reema Nilesh Gandhi - M.S.
Human Resource Management
Shanice Nicol Tyson - M.S.
Management Information Systems
Nathen James Ayres - B.S.
Muizz Abolaji Awotayo - M.S.
College of Public Affairs and Education
Communication
Madison Jayne Chunes - B.A.
Amy Jo Watson - M.A.
Education
Vanessa Michelle - M.A.
Educational Leadership
Courtney Anne Blackwell - M.A.
Elementary Education
Jenna L Cisco - BA
Global Studies
Julia T. Wasik - B.A.
Human Services
Ashley Linae Lemmon - M.A.
Legal Studies
Shelene Lynn Ford - B.A.
Unity Cheyenne Stevens - M.A.
Middle Grades Education
James Owen Biggers - B.A.
Political Science
Joseph Erik Ryan Einsle - B.A.
Gary Pyles - MA
Public Administration
Colin Michael Kerr - B.A.
Arthur Lamont Moore - MPA
Crystal Yanet Lazcano Dudas - DPA
Public Affairs Reporting
Erin M. Henkel - M.A.
Public and Nonprofit Administration
Braydon Paul Bledsoe - B.A.
College of Health, Science, and Technology
Biochemistry
Rory Julius Carlson - B.S.
Biology
Emma A Garcia - B.S.
Chemistry
Meghan Irene Kelly - B.S.
Computer Science
Spencer Chesley Mauch - B.S.
Michal Sadowski - M.S.
Data Analytics
Alyssa Ann Coppinger - M.S.
Environmental Health
Esther Adeola Adewusi - MPH
Environmental Sciences
Eric Kevin Small - M.S.
Environmental Studies
Emily M Jones - B.A.
Exercise Science
Rylee Marian Billington - B.S.
Information Systems Security
Maksymilian Marciniak - B.S.
Mathematical Sciences
Hagen Sanchez
Medical Laboratory Science
Jazmine Vinyard - B.S.
Philosophy
Shawn D Resendiz - B.A.
Psychology
Edgar X. Gasca - B.A.
Public Health
Jonathan Ernest Niederhauser - MPH
College of Liberal Arts and Social Sciences
Criminology and Criminal Justice
William D Morgan - B.A.
English
Marcial Rodriguez - B.A.
History
Jorge Alejandro Mendez- B.A.
Connor George Krater - M.A.
Human Development Counseling
Lanice Kirk - M.A.
Liberal Studies
Anjelia Alise Dominguez
Social Work
Emerson Krasnican
Sociology/Anthropology
Latoya Moni'que LaCharie Branch - B.A.
Theatre
Nia L. Tiller - B.A.
Visual Arts
Madeleine Paige Edmondson - B.A.
Pre-commencement events planned
Several events are planned for graduates, their families and guests before the ceremony at the BOS Center. Admission to some commencement events is by invitation only. Updated information, including a complete list of events, is available on the commencement website.
The ceremony will be webcast live online. DVD copies of the ceremony can be purchased from the Office of Electronic Media for $25. Orders can be placed by phone at 217-206-6799 or online.