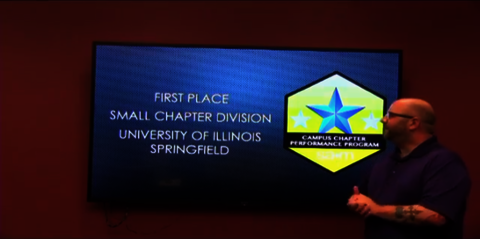 The University of Illinois Springfield Society for the Advancement of Management (SAM) chapter took home eight awards from the International Collegiate Business Skills Championship 2020, including first place for Campus Chapter Performance in the small chapter division.
Nineteen university chapters competed in the annual skills competition, which was held remotely this year.
The following UIS students received awards: Adam Shaw, first place Extemporaneous Speech; Sruthi Puranapanda, Animesh Pawar, K. Sneha Shenoy and Srinjoy Meta, second place in Case Competition; Nikhil Aatrei, Abhishek Sheshagiri, Adam Shaw and Manasa Nagamalla, second place Written Case, K. Sneha Shenoy received the third place Overall Individual Award and Nikhil Aatrei was named Outstanding Student.
Besides placing first in Campus Chapter Performance in the small chapter division, the team took home second place Overall Performance Award and Hasan Kartal was named Outstanding Adviser.
The International Collegiate Business Skills Competition provides students with an exciting learning experience in which they compete directly with other college teams running a simulated company.