The University of Illinois Springfield honored three alumni for their achievement, service and humanitarianism during the annual UIS Alumni Gala at the UIS Student Union and live streamed via Zoom webinar on Feb. 25, 2022.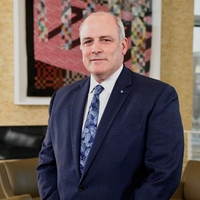 The 2022 Alumni Achievement Award for outstanding success and national or international distinction in one's business, profession or life's work was presented to Trif Alatzas, of Bel Air, Maryland. He is a 1989 graduate of the UIS Public Affairs Reporting program. He has led news organizations to two Pulitzer Prizes and six Pulitzer nominations while distinguishing himself with accountability journalism and a dedication to serving readers during his career.
Alatzas has spent the majority of his career with Baltimore Sun Media, where he was named publisher and editor-in-chief in 2016. He oversees The Baltimore Sun, The (Annapolis) Capital Gazette, Carroll County Times and more than a dozen community publications.
Amid seismic changes in the news business, he successfully led the editorial transition to paid digital subscriptions in Baltimore. Under Alatzas' leadership, The Baltimore Sun earned a 2020 Pulitzer Prize for local reporting as a result of exposing fraud and other crimes in its coverage of a former Baltimore mayor. In 2019, Capital Gazette staff members were recognized with a Pulitzer Prize special citation for an "unflagging commitment to covering the news and serving their community at a time of unspeakable grief" after a gunman killed five staff members on June 28, 2018.
Alatzas is chairman of the Maryland-Delaware-DC Press Association's Freedom of Information Act/Public Information Act subcommittee and a United Way of Central Maryland board member. In 2019, he was inducted into the UIS Bill Miller Public Affairs Reporting Hall of Fame.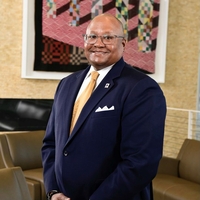 The 2022 Distinguished Service Award for extraordinary commitment, dedication and service to the advancement of the University of Illinois was awarded to Donovan Pepper of Oak Park, Illinois. He received his bachelor's degree in political studies in 1994 and his master's degree in political studies in 1996 from UIS. He is the senior director of government relations and civic engagement for Walgreen Corporation.
The depth, consistency and continuum of Pepper's involvement and leadership with UIS has significantly advanced the institution's mission. His volunteer leadership, talent and personal resources enable the University and its students to thrive. He is a past member of the UIS Alumni Board and the board of directors of the University of Illinois Alumni Alliance. He chaired the advocacy committee, which shaped advocacy strategy for the Illinois Connection Advocacy Network, a systemwide volunteer group. In 2014, he served as the UIS commencement speaker.
Pepper and his wife, Heidi Waltner-Pepper, also a UIS graduate, have generously provided financial support to projects like the UIS Student Union and the Kent Redfield Scholarship Fund.
His vast civic engagement includes being chairman of the board for The Civic Federation, chairman for the Chicagoland Chamber of Commerce's Political Action Committee and chairman of the Oak Park Citizens Police Oversight Board. He also is a board member for the Magnificent Mile Association, One Aim Illinois (formerly, the Illinois Council Against Handgun Violence) and the Chicago-Cook Workforce Partnership and HFS Chicago Scholars.
He is a 2008 recipient of the University of Illinois Loyalty Award for Exceptional Alumni Service. In 2015, he was inducted into the UIS Samuel K. Gove Illinois Legislative Internship Hall of Fame and in 2018 was inducted into the Triton College Wall of Fame. An award named after him, the "Donovan Pepper Leadership Award" is given out annually to a UIS Student Government leader who has excelled on campus.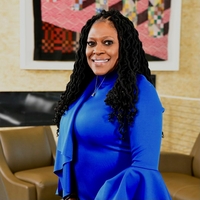 The 2022 Alumni Humanitarian Award was presented to Teresa Haley of Springfield, Illinois. The award is presented to those alumni who, through their outstanding involvement and dedication, have made a significant contribution of leadership or service which has improved or enriched the lives of others and the welfare of humanity.
Haley received her bachelor's degree in communication in 1992 and her master's degree in public administration in 1994 from UIS. She is a longtime passionate civil rights activist, public policy advocate, professional trainer and dynamic speaker.
With her motto of "Keep it Movin," Haley devotes herself to serving God, family and community. She is the founder of Haley & Associates, a training and consulting service. In 2015, she became the first female president of the Illinois NAACP State Conference and is serving her sixth consecutive term as president of the Springfield Branch NAACP.
She spearheaded the first-ever Springfield Branch NAACP Office and Education Center. She chairs the Economic Development Workgroup for the Illinois Department of Public Health COVID Taskforce and Springfield Airport Authority. During the pandemic, she wrote and the community received several grants to assist families most impacted by COVID-19. She worked with local officials to honor the 110th Commemoration of the 1908 Race Riots. She serves on the governor's Justice, Equity and Opportunity Initiative Transition Committee and the governor's Commission for Environmental Justice.
Among the numerous honors Haley has received is the first-ever NAACP Activist of the Year Image Award, the Community Service Award from the Frontier International Club and was the first black female to receive The State Journal-Register's First Citizen Award.