Reaching Stellar priority becomes reality with opening of Center for Lincoln Studies
UIS held its grand opening for the Center for Lincoln Studies on February 12, 2021 – the anniversary of Abraham Lincoln's birth. The Center is one of five stated priorities of the Reaching Stellar fundraising campaign that seeks to raise $40 million for UIS by 2022. Now that the dream of the Center has become a reality, it is expected to be a national base for scholarship, teaching and public history about Lincoln's life, leadership and legacy. Springfield is the right place to establish a national center, and UIS is the perfect place for this ambitious endeavor. In Springfield, Lincoln lived and raised a family, practiced law and politics, and prepared for the presidency. Learn more about the Center by clicking here.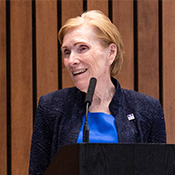 New Scholar for the UIS Center for Lincoln Studies
At the annual Celebration of Philanthropy on April 17, 2019, then-Chancellor Susan J. Koch made this announcement: "Just this past week, thanks in part to UI System President Tim Killeen's Distinguished Faculty Hiring initiative, we sealed the deal to hire our second renowned Lincoln Scholar. He will join Dr. Michael Burlingame in the Department of History this Fall as we move toward the formal announcement of the new UIS Center for Lincoln Studies." Lincoln scholar Graham Peck is the Wepner Distinguished Professor of Lincoln Studies at UIS.
The UIS Center for Lincoln Studies is a Reaching Stellar Campaign priority…
Because Lincoln still instructs, inspires and elevates all of us.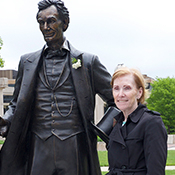 Chancellor Koch on Abraham Lincoln
Each month, UIS has a column in the local newspaper, The (Springfield) State Journal-Register. In February 2019, Chancellor Emerita Susan J. Koch wrote about UIS and Abraham Lincoln. Here is an excerpt in which she writes about the UIS Center for Lincoln Studies:
Lincoln Studies at UIS will take another important step forward in the coming year with the formal launch of the Center for Lincoln Studies – a priority of the current Reaching Stellar fundraising campaign. With planning underway for collaboration with the ALPLM, the Abraham Lincoln Association and other Lincoln-oriented organizations, the Center will provide new opportunities for learning about Lincoln and the impact of his contributions. The Center also aspires to advance research in Lincoln Studies and help prepare the next generation of Lincoln scholars.
This new Center is an important priority for the Reaching Stellar Campaign…because Lincoln still has the power to instruct, inspire and elevate all of us.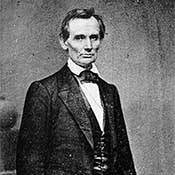 A February Celebration of Lincoln's Character
On February 11, 1861, Abraham Lincoln left Springfield, Illinois, for Washington, D.C. on a special presidential train. His Farewell Address to the crowd was delivered extemporaneously. The following is the version Lincoln wrote down after the train pulled away.
My friends — No one, not in my situation, can appreciate my feeling of sadness at this parting. To this place, and the kindness of these people, I owe every thing. Here I have lived a quarter of a century, and have passed from a young to an old man. Here my children have been born, and one is buried. I now leave, not knowing when, or whether ever, I may return, with a task before me greater than that which rested upon Washington. Without the assistance of the Divine Being who ever attended him, I cannot succeed. With that assistance I cannot fail. Trusting in Him who can go with me, and remain with you and be every where for good, let us confidently hope that all will yet be well. To His care commending you, as I hope in your prayers you will commend me, I bid you an affectionate farewell.*
These words reveal a man whose character can inspire UIS students as they study his life and works in the UIS Center for Lincoln Studies…
…because Lincoln still has power to instruct, inspire and elevate all of us.
* http://www.abrahamlincolnonline.org/lincoln/speeches/farewell3.htm
Photo attribution: Public Domain, https://commons.wikimedia.org/w/index.php?curid=1225173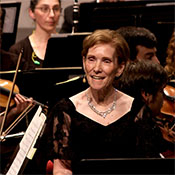 Chancellor Koch Narrates Copland's "Lincoln Symphony"
On October 18, 2018, during the Illinois Symphony Orchestra performance of Aaron Copland's "Lincoln Portrait," UIS Chancellor Susan J. Koch read texts from Lincoln's State of the Union address, the Gettysburg Address, and selections from a Lincoln-Douglas debate. It was the Symphony's season-opening performance and was chosen to celebrate both Lincoln and Illinois.
During this brief video from the Illinois Symphony's "Lincoln Portrait," Chancellor Koch says, "Abraham Lincoln, 16th president of the United States, is everlasting in the memory of his countrymen." The UIS Center for Lincoln Studies will celebrate the wisdom and legacy of this great Illinois statesman. Learn more about the Center here, and please consider adding your support to this great scholarly endeavor.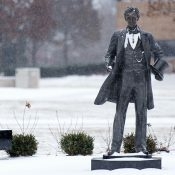 Happy Thanksgiving!
With Thanksgiving coming soon, it's worth remembering that on October 3, 1863, Abraham Lincoln proclaimed the last Thursday in November as a national day of Thanksgiving. He did so after receiving a request from Sarah Josepha Hale, that the day of thanksgiving be celebrated on the same day throughout the United States "to become permanently an American custom and institution." Prior to this, states that celebrated Thanksgiving, mostly in New England and other northern states, chose their own day of celebration. Our country has celebrated Thanksgiving every year since Lincoln's proclamation.
Best wishes for your own celebrations, and many, many thanks to the wonderful friends and alumni of UIS who have given and will give during this year of 2018.
Because Lincoln still instructs, inspires and elevates us all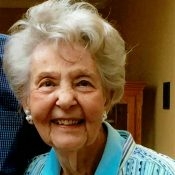 Agnes M. Dzombak | Books about Lincoln
UIS is pleased to accept a special collection of books from the estate of Agnes M. Dzombak, a longtime Lincoln enthusiast. She collected the books during her lifetime, including eight books by Dr. Michael Burlingame, who holds the Chancellor Naomi B. Lynn Distinguished Chair in Lincoln Studies at UIS. Agnes Dzombak's son, David Dzombak, Professor and Head of the College of Engineering at Carnegie Mellon University, arranged the gift. He said, "Michael Burlingame's affiliation with UIS provides further confirmation that UIS will be a good home for the collection. Perhaps my mother had the opportunity to meet Dr. Burlingame sometime at the annual Lincoln Forum in Gettysburg, which she attended every year since its founding in 1995."
The Agnes M. Dzombak collection is an outstanding contribution in support of the new UIS Center for Lincoln Studies. It will be housed in Brookens Library.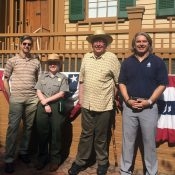 Richard Raymond | First Scholarship for UIS Center
Richard Raymond, UIS alum, began his National Park Service career as a curator during the restoration of the Lincoln Home the late 1970s. Now he has created the first scholarship for the new UIS Center for Lincoln Studies.
"Abraham Lincoln's is a great American tale," Richard says. "He rose from a log cabin to a pleasant home in Springfield on a street of doctors and lawyers. As President, overnight he had to deal with the issue of slavery, and after the war, instead of subduing the conquered, he planned for reconstruction as only a statesman would. Lincoln is certainly worthy of study and emulation."
Pictured at right: Dr. Devin Hunter—UIS History Professor, Michelle Levine—UIS student and Park Service intern, Richard Raymond—National Park Service RET, Chuck Schrage–UIS Alumni Relations at the Lincoln Home in Springfield.
Dr. Michael Burlingame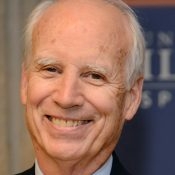 Dr. Michael Burlingame will be a important asset to the UIS Center for Lincoln Studies. He is the Chancellor Naomi B. Lynn Distinguished Chair in Lincoln Studies and an internationally renowned scholar who has published twelve books on the life and times of Abraham Lincoln. His work "Abraham Lincoln: A Life," a two-volume biography, was honored with Gettysburg College's 2010 Lincoln Prize, the Gilder Lehrman Institute of American History, and the 2009 Russell P. Strange book award from the Illinois State Historical Society for the best book on Illinois history. It was also listed as one of the five best books of the year 2009 by The Atlantic Monthly. Read more about Dr. Michael Burlingame.
Lincoln Legacy Lecture Series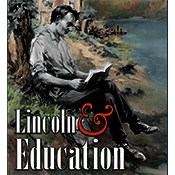 On November 19, 2002, the Inaugural Lincoln Legacy Lecture took place at UIS. It is now known as the Mary and James Beaumont Endowed Lincoln Legacy Lecture Series after a generous gift by Mary and James Beaumont. The series has been held every year. More than 5,000 students and community members have attended the lectures over the years, including 600 who attended a special symposium in April 2015 before a re-enactment of Lincoln's Funeral. Unique to the lecture series is a dual focus on issues important to Lincoln and still important to us today. The 2021 event is scheduled for 6 to 9 p.m. Saturday, Oct. 16. View last year's the Lincoln Legacy Lecture series.
For more information call 217-206-6058 or email advancement@uis.edu