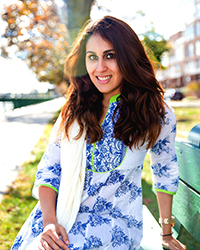 Priyanka Deo
2010
YouTuber
Political Science/Sociology
Current Location: New Delhi
Hometown: Chicago, IL and Pune, India
UIS Degree: Awarded B.A. Political Science, B.A. Sociology/Anthropology, 2010, summa cum laude)
Other Degrees: MSc 2014 London School of Economics, M.S. 2015 University of Southern California, Masters (EdM) 2018 Harvard University
Current Position: YouTuber- New India Junction & Columnist 
Career Highlights
Priyanka worked as a print journalist for two years at Business India Magazine in Mumbai, India upon graduating UIS. She then attended the London School of Economics and the University of Southern California to earn two masters' degrees. Priyanka relocated to Washington DC where she worked as a strategic crisis communications consultant and then in intelligence. She then attained a third masters degree from Harvard in 2018. After that, Priyanka moved to New Delhi, India and started YouTube channel New India Junction. It aims to provide a platform for youth to objectively voice their opinion. Her work is regularly shared by eminent personalities including Prime Minister Narendra Modi. Priyanka also actively works with helping youth in nation-building. She is a regular television panelist and columnist. Her articles are regularly published by major media outlets including the Indian Express, CNN-News18, Zee and WION.
Memories of SSU/UIS
During my time at UIS, I decided to max out my time and make the most of the tremendous opportunities that existed. I captained the UIS women's varsity tennis team playing at number one for both singles and doubles. I received that Lincoln Medallion; one of the most prestigious student awards in existence for my work for the Illinois Innocence Project. I was also the chosen speaker at the Governor's Mansion for the ceremony. I was awarded 'Outstanding Delegate' & 'Best Chairperson' at the National Model United Nations among 300 universities worldwide. For this, I was invited to Switzerland and Kuala Lumpur. I won a national parliamentary debate tournament for UIS. I interned for former Senator and President Barack Obama. I was also the commencement speaker at graduation. The culmination of all four years in those five minutes while speaking before professors, family, friends and peers is a moment etched in my memory forever! I will never forget the positivism and spirit that my entire UIS family showed me that day.
How did UIS change or prepare you?
"Besides a solid education, UIS taught me time management, meeting deadlines and organization. I pushed myself past my limit daily as a student at UIS. I always found that I had great support from professors and friends the entire team. This gave me the energy to have a successful academic journey both in and out of the classroom. 
Interesting Facts
· For her platform New India Junction, Priyanka has reported and created mini-documentaries on critical and historic events in India including Jammu and Kashmir after the abrogation of Article 370, the Ayodhya verdict and the protection child rights and the refugee crisis in Northeast India. She has also exclusively covered events in Prime Minister Narendra Modi's residence. 
· Priyanka is a trained Indian classical dancer in kathak. ​