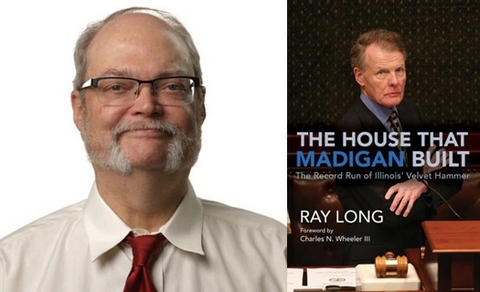 Veteran Chicago Tribune investigative reporter Ray Long has a saying about covering the Illinois Statehouse – it's the "greatest beat on Planet Earth."
For the past half-century, one of the mainstays on that beat was Illinois House Speaker Michael Madigan.
The Chicago Democrat served in the House for 50 years – 36 of them as speaker, making him the longest-serving legislative leader in U.S. history.
But that tenure came to an end a year ago, as Madigan was ousted as speaker before resigning his House seat and his role as chair of the Democratic Party of Illinois amid an ongoing federal corruption probe for which he hasn't been charged.
Long, a 1981 graduate of the Public Affairs Reporting program, chronicles Madigan's storied legislative career in a new book – "The House That Madigan Built: The Record Run of Illinois' Velvet Hammer" (University of Illinois Press), which comes out March 22.
We'd like to invite you to join us on Zoom at noon March 17 to hear from Long about his book and his career covering Madigan.
Long will take questions from two current PAR students – Caroline Kubzansky, an intern for Chicago public radio station WBEZ, and Andrew Adams, an intern for The State Journal-Register and Gannett.
You can register to attend this free event at this link. Two lucky attendees will be randomly selected to receive a copy of Long's book.
Hope to see you there.
Jason Piscia is an assistant professor and director of the Public Affairs Reporting program at the University of Illinois Springfield. He came to UIS following a 21-year career at The State Journal-Register.