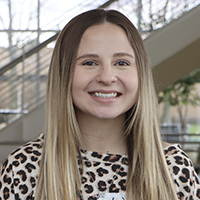 Madison Fugnitti
2024
Elementary Education
Hometown: Pawnee, Illinois
Major: Elementary Education
Future Plans: Become an elementary school teacher
Madison Fugnitti works as a childcare aide at the University of Illinois Springfield's Cox Children's Center. In her hometown of Pawnee, she earned the title of Miss Pawnee Prairie Days in 2019. She also started a Facebook group to allow parents to connect with reliable, trustworthy and qualified babysitters in and around Pawnee.
"I chose UIS because it has truly always been my home," she said. "When my mother, Briana Fulton, graduated high school I was just a baby. She was accepted into the Capital Scholars Program at UIS in the fall of 2003. My mother and I lived in Sunflower Court (family housing) throughout her college years."
Fugnitti's mother currently works as a business administrative specialist for the UIS Performing Arts Center.
"My favorite parts of UIS are the beautiful campus, the childcare center, and having my mom nearby (calls for many lunch dates)," she said. "Working at Cox is what led to my change of major from legal studies to elementary education. I don't regret it one bit! I am passionate about shaping little minds, it is truly the most rewarding job."
Outside of UIS, she has also volunteered as a Salvation Army bell ringer. In 2020, she helped bring a kettle to Pawnee that raised more than $1,400.
Following graduation from UIS, Fugnitti plans to finish course work in order to become a licensed elementary school teacher.
Leadership is lived at UIS. Every day.