The University of Illinois Springfield Visual Arts Gallery is pleased to present "digital dusk shadow storage," an installation by St. Louis-based artist Amanda Bowles. The exhibition will open on Monday, August 27, and run through Thursday, September 20. A reception for the exhibit will take place on Thursday, September 6, from 5:30 to 8 p.m.
The immersive installation will feature crystalized tube towers, ghost images, sky blocks, and a large painting of fingers.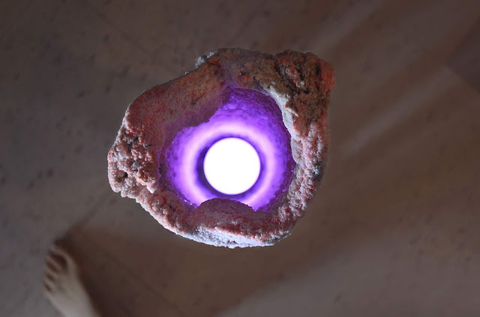 The artist describes the exhibit as "pink air, light refracting, iClouds float in a Midwestern sky. Civil twilight culminates in civil dusk; nautical twilight begins. A backdrop for an imperfect cinema, where horizons float on the surface of infinite data pools and time collects like condensation on cave walls."
Bowles is an interdisciplinary artist whose work experiments with temporalities, utilizing material-specific processes to express a yearning for deep-time in the age of no-time. Employing mundane rituals, she constructs artifacts that visualize duration - loosely coalescent aggregates in video, installation, performance and text.
Interested in the ways relationships between self and others are evolving, as temporal experience is reframed by digital technologies and publics are rearranged into networks – Bowles works between the on and offline. Her practice demarcates the studio as a site for transformation and transmission, production and performance.
Bowles received her bachelors of fine arts from the Kansas City Art Institute and her masters of fine arts in art theory and practice from Northwestern University. She was born in Alexandria, Virginia.
She has exhibited nationally at spaces including, Averill and Bernard Leviton A+D Gallery, Chicago; Mary & Leigh Block Museum, Evanston, Illinois; The Luminary, St. Louis; H&R Blockspace, Kansas City; Artist Coalition Gallery, Kansas City; Concrete Utopia, Brooklyn, New York; Public Gallery, Louisville, Kentucky. She has screened work on AcreTV and at P3+, Hammond, Louisiana; The St. Louis Public Library, St. Louis; The Karras Performance Festival, Chicago, Illinois. Bowles is a founding member of Monaco, an artist-owned gallery in St. Louis.
The Visual Arts Gallery is centrally located on the UIS campus in the Health and Science Building, Room 201, and is open Monday through Thursday 11 a.m. to 6 p.m.
For more information, visit the UIS Visual Arts Gallery website or contact the gallery by phone at 217/206-6506 or by email at alach@uis.edu.