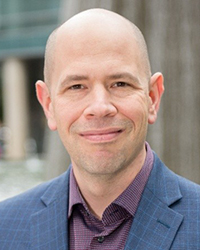 Bradley Weber
2007
Commercialization Success Partner
Political Science/Public Administration
Current Location: Dallas, TX
Hometown: Urbana-Champaign, IL
UIS Degree: Bachelor of Arts in Political Studies, Class of 2006; Master of Public Administration, Class of 2007
Current Position: Commercialization Success Partner, The University of Texas Southwestern Medical Center
Career Highlights
Each and every day, as a Commercialization Success Partner at UT Southwestern Medical Center, I promote and protect our Investigators Intellectual Property, getting it one step closer into the "commercialization pathway" with an end goal of saving lives/increasing the quality of life for countless numbers of people who I will likely never meet. Outside of my service in the U.S. Navy, nothing could be more meaningful or personally/professionally gratifying.
What are your best memories of UIS?
1.) My daughter was born while I was a student at UIS. Nothing can top that. I was studying for a statistics final while her mother was in labor. 2.) I greatly enjoyed the comradery of the numerous other military veterans who I took classes with. Starting school after nearly five years in the U.S. Navy, I was nervous that my classmates would be much younger than me and that I would not "click." When I arrived at UIS I found numerous other veterans and public sector executives who were continuing their education. 3.) Every class where Dr. Ron Michaelson brought former Gov. Jim Edgar to class to discuss his experiences as governor of Illinois.
How did UIS change or prepare you?
While an undergraduate student, I was required to complete a semester long internship, which I did at the Illinois Republican Party Headquarters. During my internship, I received incredible exposure to politics and state leaders.
As a graduate student, I participated in the Graduate Public Service Internship (GPSI) where I was assigned to work in the Illinois Department of Health and Family Services, Office of the General Counsel.
Both internships were an integral part of transitioning to a "civilian mindset" after leaving the U.S. Navy.
What is an interesting fact about yourself that you would like to share?
I've climbed the famous Mount Suribachi on the famous Pacific Ocean Island of Iwo Jima not once, but twice, standing on the spot where the Marines and Navy Corpsman erected the American flag on February 23, 1945.