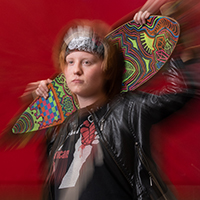 Amanda Jones
'23
Communication
Hometown: Elgin, Illinois
Major: Communication
Future Plans: Work as a creative graphic designer or photographer

Amanda Jones works as a library student assistant and photographer for the UIS Observer (formerly The Journal) and Campus Relations. She is the social media chair for the Leadership for Life Service Program and the treasurer for the Alternative Spring Break student organization. She also has worked with the UIS Volunteer and Civic Engagement Center. "I chose UIS because I saw the opportunity for a lot of resources that would help me succeed as a first-generation college student coming from a high school graduating class of 18," she said. "I was used to the small school environment and wanted to find a similar experience in college. I like the individualized experience that students can get at UIS. The small class sizes allow the students to get to know their professors and vice versa." Following graduation, she plans to earn her master's degree in communication and work as a creative graphic designer or photographer.

Leadership is lived at UIS. Every day.