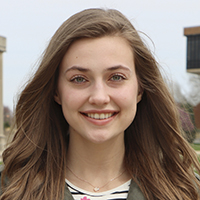 Amanda Brown
'23
Elementary Education & Communication
Hometown: Springfield
Majors: Elementary Education & Communication
Future Plans: Earn a master's degree
University of Illinois Springfield student Amanda Brown came up with the idea to add children's libraries to local laundry mats. She received financial support from the Kiwanis Club of Springfield-Downtown, where she is a member, to buy bookcases and other items. She also contributed books for her own childhood library, in addition to other donations.
"It was something I really wanted to create because reading is so important for children and I know not all children have access to books," Brown said. "I wanted to give this opportunity and make available a variety of books for them to read."
The laundry mat libraries feature a variety of books ranging from pre-K to 5th grade. Brown decorates the area with posters and educational material to help promote reading and to make the environment inviting. She visits each location every two weeks to switch out the books with new reading material to keep it fresh.
"I have had so much positive feedback from the owners of the laundromats," she said. "The families and children use the library frequently and have made many positive comments."

Brown chose UIS because she was impressed with all the school has to offer.

"I like the school's excellent reputation of quality education," she said. "I particularly like the small classes in which the professors and students can closely interact for a better learning experience. I enjoy leadership roles, working with others and helping the community."

Following graduation, she plans to continue her education by earning a master's degree.

Leadership is lived at UIS. Every day.