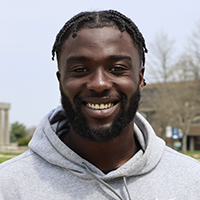 Hometown: Saarbrücken, Germany (born in Ghana)
Major: MBA with a certificate in Business Analytics
Future Plans: Enter the workforce
Albert Nimako plays on the University of Illinois Springfield men's soccer team, interns as part of the Graduate Public Service Internship Program at the Illinois Department of Healthcare and Family Services and serves as an intramural referee for UIS Campus Recreation. Asked why he chose UIS, he said "as in everything in my life, I want to be in a better position than others. Getting a master's, while getting firsthand experience with the state, will help me in many ways." He says he gets more out of classes at UIS due to the smaller class sizes. "You get help anywhere needed," he said. "Being able to live on campus is a plus as well. Being closer to everything makes it easier to connect." Nimako plans to graduate from UIS in December 2022. Following graduation, he plans to enter the workforce.
Leadership is lived at UIS. Every day.