EAD Correction or Replacement of Lost or Stolen EAD Card
USCIS issues Employment Authorization Documents (EAD) as evidence that you are authorized to be employed in the United States for a specific time period.
This is what your EAD may look like: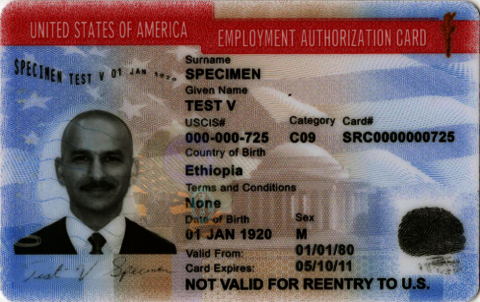 EAD Correction Due to USCIS Error
If you have received an EAD Card but it contains incorrect information due to an USCIS error (e.g. typo in name or incorrect birthdate), you must return the original EAD card to get it corrected by USCIS. USCIS will issue a corrected EAD within 30-45 days of receiving the EAD that contains the error.
If you are not sure if the error is made by USCIS or you have questions, please contact the ISS office.
BEFORE sending away your card for a correction, be sure that you: 1) make a photocopy of the card, 2) have already provided the card for your employment hiring process, SSN application, or Driver License renewal, and 3) do not have any international travel plans in the next 1-2 months.
You will submit the following to USCIS:
The original EAD card
A letter containing a detailed explanation of the error
Copy of the OPT-I20 issued by ISS
Copy of passport biographical page
Form G-1145
Mail your request to the center that processed your OPT application and make sure you get a tracking number. Check your USCIS receipt number: if the first 3 letters of your OPT receipt number are YSC, then the card was produced by the Potomac Service Center. (If you are not sure which Service Center issued the card, please contact ISS). Use the address below for the Potomac Service Center:
Potomac Service Center
U.S. Citizenship & Immigration Services
2200 Potomac Center Dr. Stop 2425
Arlington, VA 20598-2425
Please note: If USCIS determines that the card contains incorrect information that is NOT due to USCIS error, they will return the EAD Card. You will need to request a Replacement EAD and repay the USCIS I-765 filing fee.
Replacement of EAD Lost in Mail at fault of USPS:
If the case status on USCIS is showing that your EAD card was mailed, but you never received it, there is a possibility that it was undeliverable or lost by the U.S. Postal Service (USPS). Follow these steps to request a replacement EAD card:
Call USCIS to obtain the tracking number for your EAD Card. If you have registered for an account with USCIS.gov, the tracking information should show in your account if the card has been mailed.
Check the tracking number. If it shows "delivered," contact USPS to see if they are able to locate the mail for you. If USPS is responsible for the lost card, you will need to obtain an official letter on a letterhead from USPS stating such. If approved, USCIS will then issue a new replacement EAD at no additional cost.
If your case status shows "undeliverable," it means that USPS may have returned the EAD to USCIS. Follow the instructions in the online USCIS case status to request that USCIS resend the card to you.
Please note if USPS determines that they are NOT responsible for the loss of the EAD, you will have to file for a replacement Lost EAD Card and pay the USCIS I-765 filing fee.
Replacement of Lost, Stolen, or Damaged EAD or
Correction of EAD NOT DUE to USCIS Error:
Students who need a replacement EAD Card (e.g. the original EAD Card was lost, stolen, destroyed, or it included an error by the applicant), will need to complete a new application and re-pay the filing fee in order to obtain a corrected EAD. This can be completed online and specified as the reason for applying.
USCIS Phone Number: 1-800-375-5283