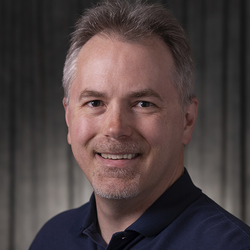 Title(s):
Admissions and Record(s) Supervisor (LS)
Extra Help Public Address Announcer
Area of Specialization
UIS Petition App, Degree Audit System (DAS), backup for outgoing Transcripts and Enrollment Verifications
Mike joined the Office of Records and Registration in February 2017, after initially coming to UIS in October 2014 with the Office of Advancement. Since Fall 2021, he has been the Public Address Announcer for home Women's and Men's Basketball games, expanding to Women's and Men's Soccer, Volleyball, Baseball, and Softball in 2023. He has a Bachelor of Arts degree in Mass Communications from Susquehanna University and is a former radio personality from Southwestern Pennsylvania. He was honored five years in a row by the Pennsylvania Association of Broadcasters for his work in local news and commercial production. He is active in Springfield-area community theater, including appearances in UIS Theatre productions of Macbeth (2016), Almost, Maine (2017), Dead Man's Cell Phone (2019), and Medea (2022). He volunteers at Sangamon County Animal Control, walking dogs and socializing cats. He has a home-based voiceover studio, enjoys Ultimate Frisbee, video games, and thinking about writing.