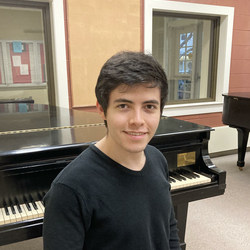 Title(s):
Instructor of Piano
Born and raised in Bogotá, Colombian pianist Juan Francisco Camacho has given numerous solo and collaborative recitals in major cities in Colombia such as Bogotá, Medellín, Armenia, and Tunja. Mr. Camacho was selected to perform Mozart Piano Concerto No. 13 in C Major by the Camerata Olav Roots, performing at the Fabio Lozano
Auditorium of the Jorge Tadeo Lozano University, and was also a soloist at the prestigious hall, León de Greiff. In addition to his piano activity, Mr. Camacho was selected to perform as a soloist twice at the National University the Bach Concerto BWV 1057 on the harpsichord and the Handel Concerto Op. 4 No. 5 on the organ. Mr. Camacho is in much demand as a pianist by contemporary composers. Most recently, he premiered "Toccata No. 30 for Celesta, Harp, and Cembalo", and the "Toccata No 27 for Piano and Harp" by renowned Italian Colombian composer Mauricio Nasi Lignarolo.
In 2020, Mr. Camacho started his DMA in Piano Performance and Literature as a recipient of Ross Fellowship at the University of Illinois under the tutelage of Dr. Timothy Ehlen. Previously, he earned his Master of Music degree in Piano Performance at Missouri State University with Dr. Hye-Jung Hong, and Bachelor's Degree in Piano
Performance at the Conservatory of the National University in Colombia with Prof. Juan Pablo Luna. He has performed at several masterclasses, including classes with Pascal Rogé, Boaz Sharon and Ian Hobson. At Missouri State University he was awarded with the Keyboard Performance and Keyboard Governors Awards. Recently, Mr. Camacho performed in the San Juan Piano Festival in Puerto Rico, where he received a full tuition scholarship.
Education
M.M. in Piano Performance, Missouri State University