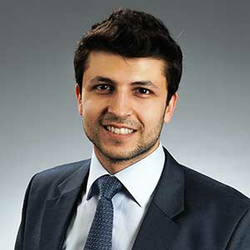 Department(s):
Management Information Systems
Title(s):
Associate Prof.
Office Location
One University Plaza UHB 4084


RESEARCH INTERESTS
Data Science: Machine Learning, Data Mining, Business Analytics, Big Data, Artificial Intelligence, Decision Support Systems.
Data Privacy: Privacy-preserving data publishing, valuation of personal data, economics of privacy.
Application Areas: Social Media Analytics, Medical and Health Informatics, and Supply Chain Management.


EDUCATION
PhD Management Information Systems, University of Massachusetts - Lowell, MA, USA (2017)
MSc Management Engineering, Istanbul Technical University - Istanbul, Turkey (2012)
BSc Industrial Engineering, Yildiz Technical University - Istanbul, Turkey (2009)


SHORT BIO
Dr. Hasan B. Kartal is an Associate Professor in the Department of Management Information Systems at the University of Illinois at Springfield. He earned his Ph.D. at the University of Massachusetts Lowell in Management Information Systems (2017). His principal research interests are in data science, business analytics, data privacy, information economics, big data, and social media analytics. He is currently focused on information privacy and privacy-preserving data sharing. His works have been published in high-quality peer-reviewed journals such as the Journal of the Association for Information Systems, International Journal of Information Management, Information Systems Frontiers, Computers & Industrial Engineering, Journal of Global Information Management, and ACM Transactions on Management Information Systems. He presents at international conferences such as ICIS, INFORMS, AMCIS, and HICSS. He is a certified associate application consultant of SAP Predictive Analytics.


AWARDS AND HONORS
Scholar of the Year Award (2022) - College of Business and Management (CBM) at UIS
Outstanding Adviser (2020) - National Award - Society for the Advancement of Management (SAM)
Hanson Scholar Award (2019-2020) - Hanson Professional Services, Illinois
The Best Paper Award (2015) - The 25th Annual Workshop on Information Technologies and Systems (WITS 2015, Dallas)
The Best Presentation Award (2013) - The International Conference on Machine Learning and Computing (ICMLC 2013, Hong Kong)


SELECTED JOURNAL PUBLICATIONS
Kartal, H. B. and Li, X. B. (2020) "Protecting Privacy When Sharing and Releasing Data with Multiple Records per Person". Journal of the Association for Information Systems (JAIS). Vol. 21: Issue 6, Article 8. DOI: 10.17705/1jais.00643 (ABDC: A* ranked, a top journal in the basket of eight of Information Systems). Available at: https://aisel.aisnet.org/jais/vol21/iss6/8
The Impact of Smart Meter Installation on Attitude Change towards Energy Consumption Behavior among Northern Ireland Households (2020). Journal of Global Information Management (JGIM), Vol. 28: Issue 4, October-December. DOI: 10.4018/JGIM.2020100102. (with Gholami, Roya. & others). (ABDC: A ranked).
Motiwalla, L. F., Albashrawi, M., & Kartal, H. B. (2019). Uncovering unobserved heterogeneity bias: Measuring mobile banking system success. International Journal of Information Management, 49, 439-451. (ABDC: A* ranked). Available: https://authors.elsevier.com/c/1Zb5Iz1m7LO3r
Kartal, H. B., Liu, X., & Li, X. B. (2019). Differential Privacy for the Vast Majority. ACM Transactions on Management Information Systems (TMIS), 10(2), 8. (A high-quality emergent journal under the ACM umbrella. Indexing is in progress. See the editorial board: https://tmis.acm.org/editorial.cfm). Available at: https://dl.acm.org/citation.cfm?id=3329717)
Albashrawi, M., Kartal, H., Oztekin, A., & Motiwalla, L. (2019). "Self-reported and computer-recorded experience in mobile banking: A multi-phase path analytic approach". Information Systems Frontiers, 21(4), 773-790. (ABDC: A ranked). Available at: https://link.springer.com/article/10.1007/s10796-018-9892-1
MORE INFORMATION