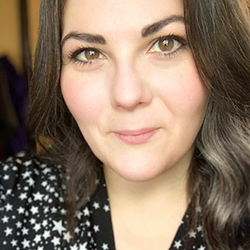 Title(s):
Associate Prof.
Director of Visual Arts & Associate Professor of Graphic Design
Courses Taught:
ART 215 Photography 1
ART 236 Introduction to Digital Media
ART 301 Entrance Assessment
ART 306 Photography 2
ART 337 Digital Media: Print
ART 338 Digital Media: Web
ART 339 Digital Media: Animation
ART 437 Digital Media: Typography
ART 480 Advanced Digital Media
ART 481 Exit Assessment
ART 482 ECCE: Professional Skills
M.F.A. in Graphic Design, Iowa State University
B.A. in Graphic Design, Minor in Media Communications, Saint Mary's University of Minnesota
In addition to teaching, Brytton is a freelance graphic designer and was a member of DEMO Project, an artist-run contemporary and alternative project gallery formerly located in Springfield, IL. Her exhibition practice is centered on the intersection of commercial and fine art practices, as well as the contrast of traditional historical production and current digital trends. Her work explores the presentation of self in the current society of constant communication and the self as an edited presentation in that context, including how the self is projected, edited, and misconstrued through digital communication. Her goals in the classroom are teaching how design can solve problems, tackle social justice and environmentalism while providing student's with a mix of client and theoretical problems.