About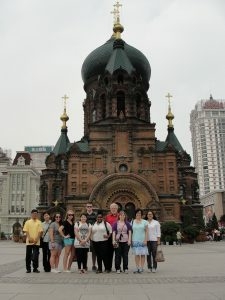 Study Away Programs encompasses three distinct areas: Study Away; support for international faculty and staff including visa and permanent resident applications; and working with faculty, departments and colleges on international initiatives.
We offer many study away opportunities which include: short-term study programs such as our long-standing exchange program in Ashikaga, Japan, and programs in England, Taiwan, Rome/Malta, Brazil, and China; full semester and year-long exchange programs in Australia, Japan, the United Kingdom, China, France, South Korea, Belgium, the Netherland, Denmark, Spain, and Mexico; and a means to take advantage of the 3000 plus study abroad programs offered by other universities and program providers including opportunities at 69 universities in 33 countries through our direct membership in the International Student Exchange Program (ISEP). We are also members of the National Student Exchange (NSE) program network which will open up opportunities for studying at universities in the USA and Canada. We can help you study almost anywhere!
We provide support for visiting and permanent international faculty and staff. This includes applying for H1, J1, and O1 visas and for permanent residency. We also assist visiting scholars with arranging for housing and accessing campus services.
International Programs has also been involved with a variety of international initiatives that have included international online education, such as our online exchange program in Political Science with the University of Colima in Mexico, collaborative efforts with universities located outside the USA, and the development of multi/dual degree programs. We review all affiliation agreements between UIS and universities and institutions located outside of the USA and provide preliminary approval where appropriate.
Learn more about SAP through our Impact Report. Find out more about the Program Summaries and Responsibilities.
Studying abroad was a once in a lifetime experience for me. The program set up by my instructor tested us every moment along the way to try to understand the culture and the people of Peru who so graciously accepted us. This opportunity to see the world differently is paramount to furthering anyone's education. To be able to participate in a study abroad program that uses both the Spanish language and other interdisciplinary fields like sociology, history, and anthropology in a country where many injustices are still occurring is a fabulous opportunity. Finding a study abroad program that can tie in so many interests other than interest in the Spanish language is rare. The fact that such a program can be offered at a smaller university is amazing. Being able to study abroad is something that I think everyone should try to do while furthering their education. For me, getting the scholarship made making this opportunity even easier to achieve. By having these scholarships it allows excellent students to participate in amazing programs like the study abroad trip to Peru. Many people think that studying abroad is out of their grasps because of financial reasons but scholarships like the ones offered at the University of Illinois Springfield make studying abroad dreams possible.

-Kelsey (Global Experience Program to Peru)
Vision statement for the Global Experience Program at the University of Illinois Springfield
We are part of a global web of communication, travel and trade. People, goods and ideas cross borders daily. As a public affairs institution dedicated to serving the needs and aspirations of the people of Illinois, UIS will continue to extend its vision beyond the boundaries of Springfield and Illinois in order better to prepare its students for their local and global responsibilities.
The Global Experience Program includes UIS study abroad seminars and exchange programs as well as programs administered by other universities and educational institutions. UIS has developed short-term study abroad programs in Japan, Nicaragua, Jamaica, Mexico, China, Botswana, Australia, Poland, Greece, Germany, The Gambia, Canada, Romania and the United Kingdom. Yearly offerings may vary. Additional programs in Italy, Cuba, and France are under consideration. UIS has also signed exchange agreements with universities in Japan, Mexico, France, China, The United Kingdom and Australia. Additional exchange programs in the Netherlands, Denmark and Korea are being developed. The exchange agreements permit UIS students to study at the partner institutions for a semester or year paying UIS tuition.
UIS has become a member of the study abroad network, International Student Exchange Program (ISEP), which opens up additional programs in 55 countries around the world and the study away network, National Student Exchange (NSE), which includes universities in the USA and Canada.
More information on UIS programs may be found through the links at the left. Information on the process of studying abroad through programs administered through other universities and educational institutions may be found through the Non-UIS programs link.