Preparing the Next Generation of Public Service Professionals
Our MPA takes a practice-oriented, research-based approach to training those who want to serve the public good. We equip students with the core leadership, budgeting, management, and analysis skills to make an immediate impact.
Mission Statement
The Master of Public Administration (MPA) program strives to advance the public interest and civic engagement. We educate current and future governmental and nonprofit public service professionals through the innovative integration of disciplinary knowledge and skills with practice. Our location in the state capital provides access to a diverse networked community of public affairs scholars, practitioners, and students.
Student Learning Outcomes
Lead and manage in public governance

Communicate in a clear and concise manner
Apply relevant theories, knowledge, and skills to effectively manage resources and programs

Participate in and contribute to the public policy process

Describe the public policy process and the role of the various participants and stakeholders
Identify problems, frame the issues, and identify and evaluate alternatives for addressing a problem

Analyze, synthesize, think critically, solve problems, and make decisions

Demonstrate the ability to collect, analyze, and interpret data for use in decision making, and drawing conclusions
Critically read and apply findings from studies and reports

Articulate and apply a public service perspective

Articulate the importance of and operate in a manner that facilitates democracy, equity, transparency, efficiency, and ethics

Communicate and interact productively with a diverse and changing workforce and citizenry

Demonstrate a sensitivity of and respect for differences in culture
Accreditation Data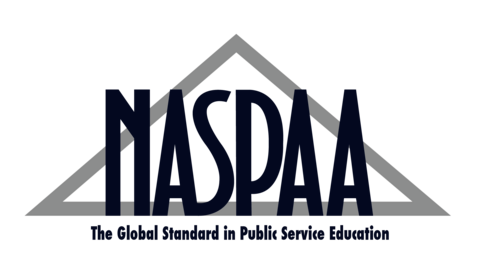 The UIS School of Public Management and Policy's Master of Public Administration (MPA) program currently serves about 180 students and is accredited by the Network of Schools of Public Policy, Affairs, and Administration (NASPAA).
Student Cohort Degree Completion Outcomes
| Cohort Academic Year | Initially Enrolled | Graduated w/In 2 Years | Graduated W/in 3 Years | Graduated W/in 4 Years | Total Graduating & Persisting to Graduation |
| --- | --- | --- | --- | --- | --- |
| 2017-2018 | 98 | 54 | 62 | 64 | 65 |
| 2016-2017 | 105 | 50 | 62 | 67 | 76 |
| 2015-16 | 68 | 29 | 43 | 46 | 51 |
| 2014-15 | 92 | 54 | 62 | 67 | 69 |
| 2013-14 | 104 | 25 | 60 | 72 | 81 |
| 2012-13 | 119 | 65 | 83 | 87 | 119 |
| 2011-12 | 119 | 78 | 92 | 96 | 119 |
Employers, Recent MPA Graduates
We are proud of the public service contributions our graduates are making.
President, Woods Fund of Chicago
Manager at University of Illinois Foundation
JOPES Analyst at USARCENT, 3rd Army
Student - Naval War College
Teach for America, Corps Member
Director, Habitat for Humanity Chapter
Procurement Compliance Monitor at Executive Ethics Commission
Wind Energy Program Coordinator at Illinois Institute for Rural Affairs at Western Illinois University
Director, Municipal Housing Authority
Health Initiatives Representative at American Cancer Society
National Parks Conservation Association - Center for Park Management Program Coordinator
Supervisor, Planning, Research & Development at Illinois Department on Aging
Village of Chapin Village President, Crisis Management Director
Programme Associate, United Nations
Research Manager, Greater Springfield Chamber of Commerce and Quantum Growth Partnership
Staff Assistant to Dept. Director of Highways
Supervisory Adjudications Officer for U.S. Citizenship & Immigration Services (USCIS)
Acting Warden, Correction Center
Public Works Director
Budget Tech, Corps of Engineers
Assistant Agricultural Commissioner and Sealer
Military Police Team Leader, Army National Guard
Operations Budget Analyst, Governor's Office of Management and Budget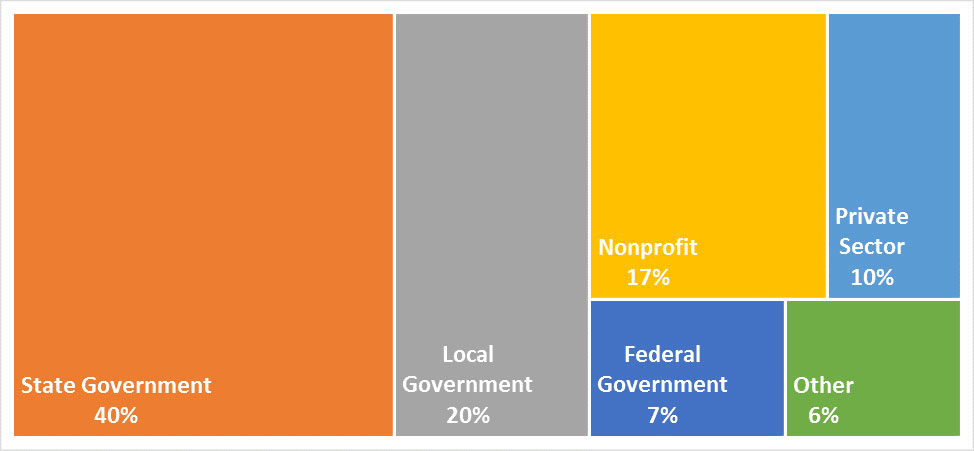 MPA career outcomes by sector: State Government 40 percent, Local Government 20 percent, Nonprofit 17 percent, Federal Government 7 percent, Private Sector 10 percent, and Other 6 percent
Employment Data
MPA career outcomes by employment sector, with 100% of reporting graduates employed or pursuing additional education.
Employment by NASPAA Categories
| Employment Categories | 2014-15 Graduates | 2015-16 Graduates | 2016-17 Graduates | 2017-18 Graduates | 2018-19 Graduates | 2019-20 Graduates | 2020-21 Graduates | 2021-22 Graduates |
| --- | --- | --- | --- | --- | --- | --- | --- | --- |
| National or central government in the same country as the program | 3 | 4 | 6 | 0 | 3 | 5 | 2 | 0 |
| State, provincial or regional government in the same country as the program | 22 | 21 | 27 | 20 | 24 | 20 | 22 | 21 |
| City, county or other local government in the same country as the program | 11 | 11 | 7 | 15 | 14 | 18 | 15 | 12 |
| Foreign government (all levels) or international quasi-governmental | 0 | 0 | 1 | 0 | 1 | 0 | 0 | 0 |
| Nonprofit domestic-oriented | 14 | 13 | 9 | 3 | 9 | 6 | 4 | 4 |
| Nonprofit/NGOs internationally-oriented | 0 | 0 | 0 | 0 | 0 | 0 | 0 | 0 |
| Private Sector - research/consulting | 0 | 0 | 0 | 0 | 1 | 1 | 0 | 1 |
| Private Sector (not research/consulting) | 0 | 12 | 4 | 2 | 9 | 4 | 5 | 3 |
| Military | 2 | 5 | 0 | 1 | 4 | 0 | 2 | 6 |
| Obtaining further education | 1 | 1 | 1 | 1 | 1 | 1 | 0 | 0 |
| Unemployed seeking employment | 0 | 0 | 0 | 0 | 0 | 0 | 0 | 0 |
| Unemployed not seeking employment | 0 | 0 | 0 | 0 | 0 | 0 | 0 | 0 |
| Status Unknown | 12 | 3 | 3 | 6 | 5 | 2 | 2 | 0 |
| Total Number of Graduates | 65 | 70 | 58 | 48 | 71 | 57 | 52 | 47 |