Wherever you are in your SPMP journey, we are here to help.
Whether you are considering applying to the Illinois capital city School of Public Management and Policy, have just been admitted, need to create an academic plan, or want to explore minors, graduate certificates, or change your major, we can help.
Regardless of your number of hours or degree level, it would be best if you planned to meet with your advisor before registering in April and November and to maintain good communication with them throughout the year as an integral part of your success team at UIS.
Explore the services we offer
Prospective SPMP Students
Pre-SPMP students wishing to meet with an Academic advisor should contact the SPMP Office to schedule an appointment. Please indicate your intended degree in the email text.
Advise U for Undergrads
Advise U was launched in Fall 2020 to assist students for educational success. Advise U is the quickest and easiest way to:
Identify your academic advisor
Schedule an appointment with your advisor
Prepare a tentative drag-and-drop course schedule for an upcoming semester
There is no app to download. Instead, access Advise U using a web browser on your mobile device or computer.
Freshman and Students (including Transfers) w/ fewer than 30-credit hours
New students with fewer than 30 credit hours will be advised by freshmen advisors located in the Center for Academic Success and Advising. Transfer students with 30 or more credit hours but are still deciding on a major are also advised by freshmen advisors.
You will be assigned to the following First-Year Advisor:
Mae Noll
(217) 206-7473
BRK 471
Feel free to schedule an advising appointment using Advise U.
Undergraduates who have completed 30 or more credit hours
If you have completed 30 or more credit hours, you will be assigned to the following advisor: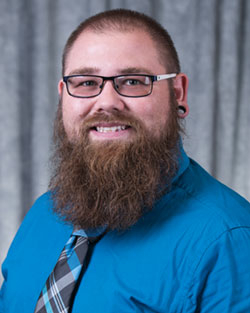 Schedule an Advising Appointment: For in-depth questions like discussing study abroad, scheduling your next semester, or general academic planning, please make an appointment with Andrew using Advise U.
Graduate Student Advising
Graduate students are assigned to a Faculty Advisor at the time they are admitted to their Degree Program.
If you are unsure about who is serving as your Faculty Advisor, please contact the SPMP office.