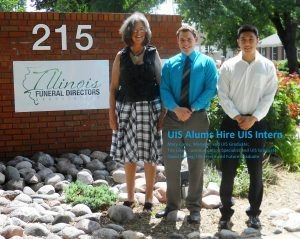 Internships
Internship Services provides an academically-sponsored learning experience through internships or projects. These experiences give all degree-seeking undergraduate students an opportunity to learn from the community about everyday tasks, professional life, problems, and unmet needs. The process emphasizes self-directed learning, providing extremely useful opportunities for students including:
Career exploration,
Exploration of additional learning needs (i.e., Do I want to go to grad school?),
Development of skills and experience that can be added to a resume,
Networking opportunities with professionals in the field, and
Increased awareness of community, diversity, and public affairs.
To learn more about our program and how to complete an internship for credit of your own, please explore our website.
Academic internship located in the U.S; may be paid/unpaid; onsite/remote/hybrid internship
Description
Typically, undergrad students or grad students with academic department permissions.
Qualifies as ECCE engaged experience /elective (undergrad students only) or general elective requirement.
Benefits
Test drive possible careers and explore different job markets while gaining relevant work experience.
Engage in networking and make long-term connections.
Learn about career path options and determine most suitable pathway to pursue.
An enhanced resume setting you apart from others.
Related Courses
Prerequisites & Requirements
Prerequisites vary by academic major. Examples:

Completion of at least 3 core courses.

Internship must be related to field of study, facilitate learning process, and provide a professional experience.
Finding Opportunities
OEL-IPL Internship postings
Intern with current employer.
Independent student search for possible internships.
Request OEL-IPL personalized assistance to search/locate internships.
How to Apply & Register
Forms
Contact IPL

Complete this online form to schedule an appointment or seek assistance from the IPL Office.

IPL 300/301 Course Application
Request to Change Credit Hours

Students should complete this form to request changes to their approved credit hours after the start of the semester.