The Global Studies Bachelor's Degree provides you with the necessary tools to help solve the problems confronting the global community. As a global studies student you will study the interactions and inter-relations among countries and peoples across the globe in a comparative and interactive way.
Program Facts
Learn More About Our Curriculum
Global Studies is an integrated, interdisciplinary approach to global learning. The courses are designed to introduce you to thinking about the world in an interdisciplinary fashion and help you understand how the parts are interrelated. The curriculum requires course work that introduces both international and comparative methods of analysis and consists of courses in economics, history, political science, and world cultures. Students are able to customize their degree through a concentration in: Globalization, Politics and Diplomacy, or a self-designed concentration with the consultation of their advisor.
Engaged Learning
At UIS global studies students are given a distinct advantage with the ability to study abroad and the opportunity to pursue internships both in the United States and around the world. As a global studies major you will study the interactions and inter-relations among countries and peoples across the globe; learn a variety of theoretical approaches for understanding global issues such as war and peace, globalization, and development, and have the opportunity to put the knowledge to work through Study Abroad opportunities, Model United Nations, campus clubs, and internships locally and around the globe.
View our student opportunities page to learn more.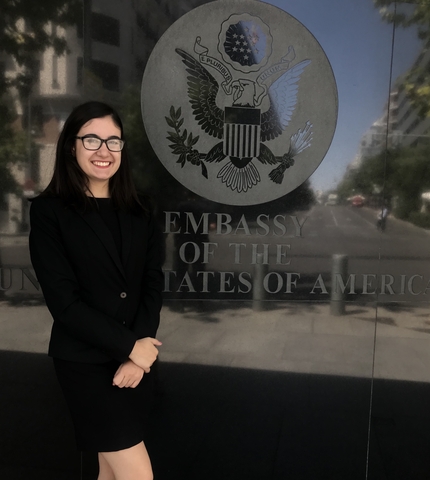 As a global studies student Gianna Messina interned at the Regional Security Office for the United States Embassy in Madrid, Spain.
Faculty Excellence
Not only are our faculty experts in the field, but they also have a passion for teaching. Global Studies faculty are committed to developing high-impact teaching and learning practices that fosters student engagement and learning.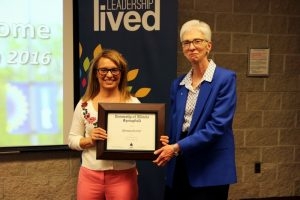 Dr. Adriana Crocker is a global studies professor and award-winning teacher who specializes in Latin American politics and has a strong background in international law and women's rights.
Leadership Lived
Join our alumni in making a difference in the global community. There are many possibilities for global studies graduates, including: international business, international media, Foreign Service, Peace Corps, international service agencies, travel and tourism, environmental advocacy, education, interpretation, and many more.
Dexter Burns is a Human Resources Management Analyst at the United States International Trade Commission, and as a global studies student he had his first opportunity to study abroad and participate in a cultural immersion program in Cuzco, Peru.
As a double major in Global Studies and Social Work, Lyssa Barth was able to experience an international perspective on social work by doing her field placement in Uganda.
---
Mar 21, 2022
Two presentations locally this coming week will explore the conflict in Ukraine. The University of Illinois Springfield will host a webinar…
Jun 18, 2018
A group of seven University of Illinois Springfield students and three faculty members are spending their summer conducting research in Ghana, West Africa as…
Aug 10, 2017
The University of Illinois Springfield has partnered with the Universidade Estadual de Maringá (UEM) to research the aquatic ecology of the Paraná River in…