Where you receive your degree matters.  The University of Illinois at Springfield is accredited by the Higher Learning Commission.  We have received numerous awards for excellence in online education, and we provide our online students with the same dynamic learning experience as our on-campus students.  Students in our online program are taught by the same Political Science Faculty who teach in our on-campus program, and our online students are supported both by faculty advisors and an online coordinator.
Courses
Our online courses are as rigorous as our on-campus courses, and our online courses are taught by the same faculty members who teach our on-campus courses. Students in our online program are able to obtain their degree by taking 100% of their courses online, without having to step foot on campus.
Online Format
Our online Political Science Bachelor's Degree students and our online Political Science Master's Degree students are able to take 100% of their classes online, never having to step foot on-campus. Our online degree programs permit a student to attend class from any location in the world, enabling them to earn their degree regardless of their physical location and schedule.
Professors are open to conducting the online course as they see best for the course content and for their students. Some professors choose to record their lectures and have students view them online, while other professors choose to do "live" lectures, where students can view the lecture synchronously (all at the same time) online or view a recorded version of the "live" lecture asynchronously (at different times) online. Most of our online students work full-time and go to school part-time and our online students vary in location and time zones, so our online classes are designed to work with different schedules and different time zones.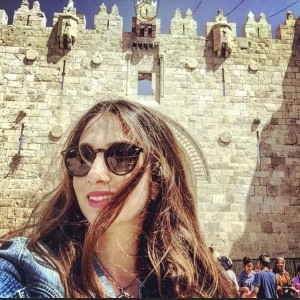 After I finished my bachelor's degree I really wanted to the flexibility to be able to travel. I choose the online Political Science Master's Degree because it gave me the ability to travel to the Middle East at my leisure while also not having to worry about putting my studies on hold. It felt extremely productive because I did not have to choose between traveling or studying. Having this option really motivated me and I felt like I was truly working towards my goals as an individual both in terms of experience and education.

Salam Awad, Political Science Master's Degree Program
Awards and Recognition
Learn more about the awards and recognition UIS has Received for its Online Programs
Application Requirements
Students may apply to begin in either the fall, spring or summer semester. Students should apply directly through the Office of Admissions.
Faculty
The Political Science Department Faculty have a strong background in the study of American national and state politics, politics and law, political philosophy, comparative and international politics, and political behavior. Individual faculty have special competencies in such topics as public opinion, elections and election reform, voting behavior, legislative politics, state politics and policy, human rights, women's rights, sexuality and politics, globalization, critical theory, international political economy, and American foreign policy. In addition to being excellent scholars in the field, our faculty are also experienced teachers who ensure their online students have the same dynamic learning environment as their on-campus peers.
"Dr. Gilman-Opalsky has shown in this course special care for the education of his students and their understanding of the information presented more than any other professor I have ever encountered in online courses. He seems to work tirelessly spending hours each week recording, uploading, and disseminating his lectures to his students with enthusiasm not easily matched by other professors within higher education. His presentation and management of this online summer course are worth the highest of praise."

UIS student in PSC 331: Political Ideas and Ideologies (online)
"Professor Crocker is truly wonderful. She was always there to answer questions and really helped me learn a lot about international law and organizations. Will definitely take another class with her in the future."

UIS student in PSC 462: International Law and Organizations (online)
"This is the most educational online classes I have ever taken, and one of the best classes in or outside a classroom in which I have enrolled. Dr. Oktay comes across as genuinely knowledgeable about her field. She chose great plenary readings that complement the text book very, very well. She clarifies and elaborates upon all these readings in well-organized, thorough, and extensive power point lectures. At the end of each power point lecture, she poses three questions to us, all of which make us think critically and really apply what we've learned. Better yet, we must pose our own questions to the class and answer at least one of our colleague's questions, sparking many genuinely enlightening conversations and producing something very hard to come by in online classes- academic discussions. Dr. Oktay always promptly responds to emails, lets all her students know how willing she is to take questions, and responds to all our posts in timely fashions. …I would, and have, highly recommended this course and this teacher to other students without reservations."

UIS student in PSC 466: Politics of Western Europe (online)
"Dear Professor Wade, I wanted to tell you that I have enjoyed the two classes I have taken with you. As a teacher myself, I really appreciate how carefully you curated your materials are and how engaging your class culture has been. These details make a huge difference in learning, especially with online classes."

UIS student in PSC 444: Gender, Politics, and Public Policy (online)
Tuition
All students in online degree programs, even including non-Illinois residents, receive our special e-tuition rate. For more detailed information on our e-tuition, please visit our tuition page.
For additional information about our online degree programs please contact Craig McFarland at SPIACoordinator@uis.edu or (217) 206-8545.