Model Illinois Government (MIG) gives students the opportunity to experience the workings of politics and government in Illinois first hand.
MIG is a government simulation where students from colleges and universities around Illinois gather at the Illinois State Capitol to serve as legislators, staffers, lobbyists, journalists, and officials of the executive branch. Through committee actions, a regular legislative session and a veto session, participants learn the legislative process. MIG gives UIS students the opportunity to learn the inner workings of Illinois government and experience politics and the legislative process first hand. MIG starts in the fall semester preparing legislation, polishing up parliamentary skills, and organizing the membership into a delegation for the spring conference.
The University of Illinois Springfield is a leader in MIG. Our students have served as the governor of MIG and we have been awarded the Outstanding Large Delegation award numerous times.
For more information or to join contact faculty advisor Kenneth Owen.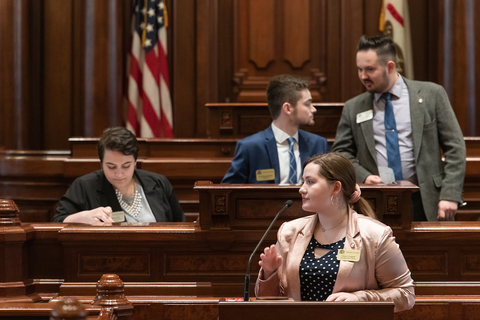 At UIS Chloe Compton was one of the head delegates for the Model Illinois Government Club. After her she graduated from UIS with a double major in political science and communication, she was selected to the highly regarded Illinois Legislative Staff Intern Program (ILSIP) at UIS. As an ILSIP Internship worked in the Issues Development Unit within the Office of the Speaker of the House of Representatives.
Model Illinois Government Competition