Gain an understanding of legal proceedings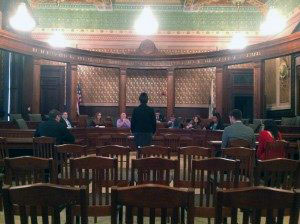 Moot Court is held in conjunction with Model Illinois Government and simulates arguments at the Illinois Supreme Court level. Students participating in Moot Court gain a better understanding of legal proceedings and have the opportunity to refine their public speaking skills and enhance their advocacy skills.
In the Moot Court competition, two-person student teams compete against each other in making appellate arguments. Students participate in oral arguments and write a legal brief based on the given fact pattern. Students are evaluated on the basis of the quality of their arguments and understanding of the legal issues, as well as their presentation skills.
Earning College Credit
Students can also earn college credit while preparing for Moot Court. Students participating in Moot Court may take PSC 414: Appellate Advocacy—Moot Court where they will study legal argumentation and prepare for, and participate in, the Model Illinois Government Moot Court Competition. In addition to completing assignments about legal reasoning and argumentation, students in the course will examine and analyze the competition's fact pattern and will engage in role-playing simulations as lawyers and judges.
To learn more or to join, please contact Professor Jason Pierceson at jpier2@uis.edu.