FAFSA® Simplification
Notice for the 2024-25 Academic Year:
The Free Application for Federal Student Aid (FAFSA) for the 2024-25 academic year will be available in December 2023, instead of the usual October 1st launch date. Stay tuned for more information on the launch of the 2024-2025 FAFSA, which is applicable to the Fall 2024, Spring 2025 and Summer 2025 semesters at UIS.
As part of the FAFSA Simplification Act, we anticipate significant changes to the federal financial aid process for the 2024-25 academic year. Here's what you need to know:
The calculation methodology for determining financial aid has changed. Instead of the Expected Family Contribution (EFC), the Student Aid Index (SAI) will be used to assess your and your family's ability to cover college expenses.
The new need analysis formula no longer considers the number of family members attending college when determining aid eligibility.
The Federal Pell Grant Program eligibility criteria has been updated to consider family size and the federal poverty level, potentially providing financial assistance to more students.
Several processes and systems for awarding federal student aid have been revised, including a new interface for direct receipt of federal tax information from the Internal Revenue Service (IRS), made possible by the Fostering Undergraduate Talent by Unlocking Resources for Education (FUTURE) Act.
You can now list up to 20 different colleges on the online FAFSA for information sharing, a notable increase from the previous limit of ten colleges.
If you are seeking financial assistance for the 2023-24 academic year, please refer to the current information on the Federal Student Aid website.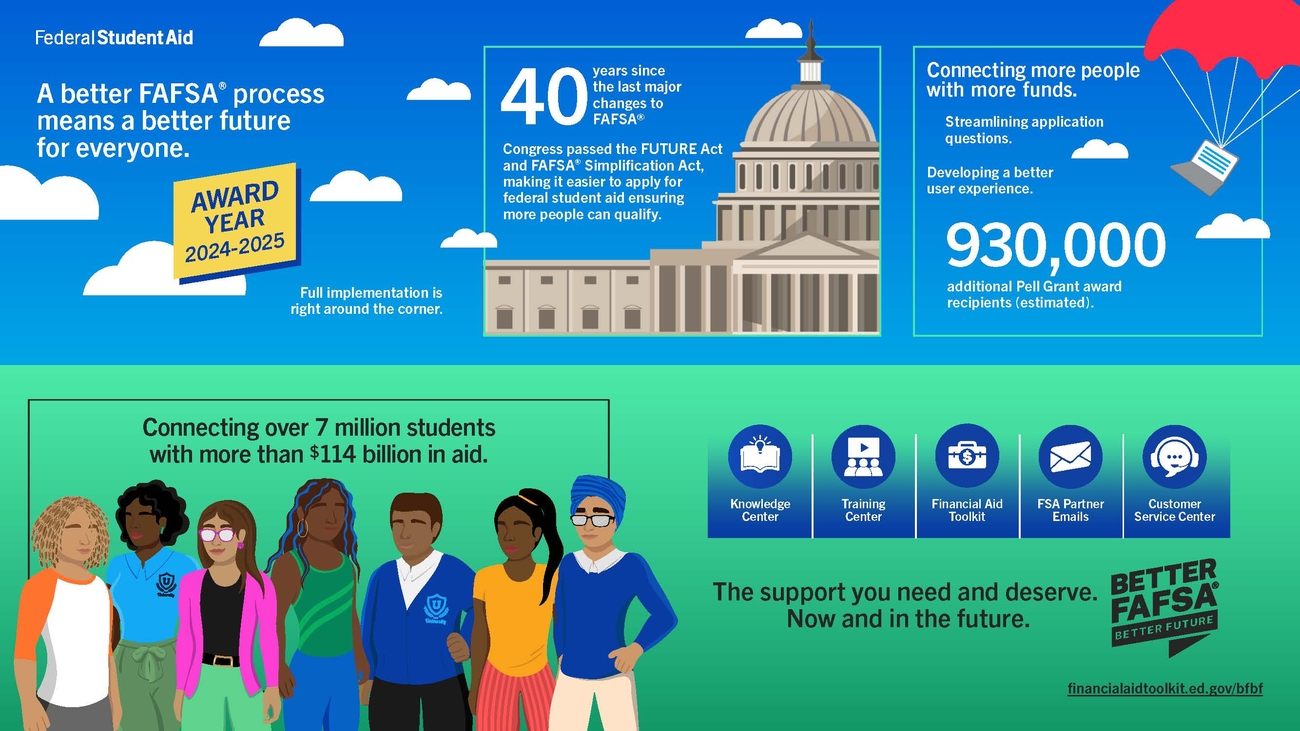 The initial step in the financial aid process is to complete the Free Application for Federal Student Aid (FAFSA). You can conveniently fill out this application online using various devices, including desktop and laptop computers or mobile devices. The FAFSA evaluates income, assets, and other factors to determine your eligibility for financial aid. While most questions are related to demographics, the remaining ones are based on tax forms, either yours or those of your parents (for dependent students) or your spouse (if you are married). Remember that your eligibility for financial aid depends on your family's financial situation, so it's crucial to submit your application annually, and early.
The Alternative Application for Illinois Financial Aid, a financial aid application for students who qualify under the Retention of Illinois Students & Equity (RISE) Act, should launch at approximately the same time as the new FAFSA. Visit the ISAC website for news and updates.
Resources
FAFSA® Simplification Fact Sheet
ISAC Financial Aid: Completing the FAFSA®
FSAOutreach YouTube Channel
Contact Financial Aid at UIS for more information and individual assistance.