UIS Presents the Prairie Promise for incoming freshmen in Fall 2024!
The Prairie Promise symbolizes our dedication to ensuring that every qualified student in Illinois benefits from the profound impact of education. This initiative is a trial program set to welcome new, first-time freshmen at UIS starting in Fall 2024. It covers remaining tuition and mandatory fees for students who receive the MAP grant with AIM HIGH, UIS merit and/or UIS need-based aid. Pell grants, donor scholarships and any other gift aid will be in addition to the Promise.
The Prairie Promise is not only expanding access to college education, but it is also closing achievement gaps and helping more students from different backgrounds.
* Tuition/Mandatory fees is based on 15 credits per semester.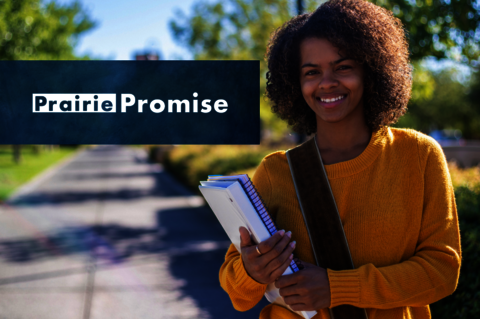 Eligibility Criteria
Students must:
be an Illinois resident.
enroll as a first-time, first-year student at UIS.
maintain full-time enrollment.
have IL MAP Grant eligibility and receive MAP grant funds.
be enrolled in a fully on-campus academic program.
How it works?
A combination of IL MAP Grant, UIS scholarships and awards, and AIM HIGH grant funds will fulfill tuition & mandatory fees.
If a higher merit scholarship along with MAP Grant is equal to or greater than tuition & fees, the merit scholarship will not be reduced.
Any Pell grants or other forms of gift aid awarded may be used towards other educational-related expenses such as living expenses or books, supplies and equipment.
Students will be eligible for the Promise as long as all renewal criteria is met for up to four years of continuous, full-time enrollment, or when they have earned their first bachelor's degree.
How to apply?
There is no separate application for the Promise. You must be admitted and have accepted your admission to the University of Illinois Springfield (UIS). You must also submit the FAFSA or Alternative Application for Illinois Financial Aid to UIS by May 1 to be considered for the Prairie Promise. Students do not have to submit a separate application form; however, once we receive your FAFSA information, we may request and/or require additional documents to confirm your eligibility criteria.
Funding will be awarded on a first-come, first-serve basis. Priority consideration will be given to students admitted and confirmed prior to May 1, 2024.
Renewal Criteria
Currently enrolled students, transfer students, graduate/professional students, international students and fully online students are not eligible for the Prairie Promise at this time.
Contact Information
Office of Financial Aid
Phone: 217-206-6724
Fax: (217) 206-7376
E-mail: finaid@uis.edu
University Hall (UHB) 1015
Promise FAQ's
Are students who are veterans or military eligible for the Promise?
Students are not excluded due to military or veteran status, as long as they are first-time freshmen and meet all other eligibility requirements for the Promise.
Many veteran or military-connected students are eligible for various types of military or veteran's assistance. Students with full tuition military-connected or veteran benefits may not have a need for the UIS Promise.
Will the Prairie Promise cover all fees?
The promise will cover mandatory fees for an undergraduate student with a full -time load of 15 credits/semester. Fees associated with online courses, lab fees, optional fees, athletic fees, late fees, parking permits or parking violation fees, and other non-mandatory fees are not included.
What if I register for more than 15 credit hours per semester?
The Promise is intended to cover tuition and mandatory fees based upon an average of 15 credit hours per semester. Students may register for more or less credits as long as they are still enrolled full-time of at least 12 credit hours. The State of IL MAP Grant is pro-rated for enrollment of less than 15 credits, per state regulations. However, UIS scholarships and grants will not be increased to cover more than 15 credits per semester, nor will it be decreased if registered for between 12-15 credits.
Will military and veteran's education benefits be considered part of the Promise?
Students receiving federal veterans' education benefits, such as Post 9/11 GI Bill, may still be eligible for the Promise if all other criteria is met. Students who are utilizing State of Illinois veteran or military benefits may not have the need for the Promise. State of Illinois programs include Illinois Veterans Grant, Illinois National Guard Grant, and Deceased, Disabled, and MIA/POW Scholarship for dependents. These programs already cover full tuition and many mandatory fees.
What is the eligibility criteria for the Prairie Promise?
A student must be an Illinois resident entering college as a first-time, first-year (freshmen) student, be eligible for and receive the State of IL MAP Grant (as demonstrated by applying for aid through the FAFSA or the IL Alternative Application), enroll full-time, and not be in a fully online academic program.
What UIS funds are included in the Promise?
Students will not see a grant or scholarship on their financial aid offer labeled as Prairie Promise. Rather, the Promise is our commitment to the student that their tuition and mandatory fees (based upon 15 credits/semester) beyond the IL MAP Grant are covered by a combination of UIS gift aid such as Star Scholar Award, Capital Honor Scholarship, AIM HIGH Grant funds, and UIS need-based grants such as the UIS Undergraduate waiver or Student to Student grant. Other awards that will be included are Camerata Music Scholarship, Memorial Health Pre-Nursing scholarship, Child of Veteran tuition waiver, Child of Employee tuition waiver, and any other UIS-funded grants, scholarships and waivers.
Is the Promise renewable?
If students continue to meet the basic eligibility requirements and receive the IL MAP grant, they will continue to be eligible for the Prairie Promise for up to four years of undergraduate full-time study.
Are RISE Act students eligible for the Promise?
Yes. Students residing in Illinois who qualify for the IL MAP Grant through the Alternative Application for Illinois Financial Aid will be eligible for the Promise.
Are current students and transfer students eligible for the Promise?
No, not at this time. The Prairie Promise is a pilot program, and first-year, first-time (freshmen) students beginning at UIS in the Fall 2024 are eligible for consideration.
What costs are not covered?
Room and board, course-specific fees such as laboratory fees, study abroad fees, the new student orientation fee, and indirect expenses like books, supplies and travel are not covered. Late fees, parking permits, parking tickets, damages, and other non-mandatory, optional fees are not included.
What costs are covered?
The full cost of tuition and required fees up to 15 credit hours per semester.
This cost is estimated as the average of tuition & fees for a student taking 15 credit hours, as indicated on the student's financial aid offer notification letter. The student's actual cost may be slightly more or less than this estimate.